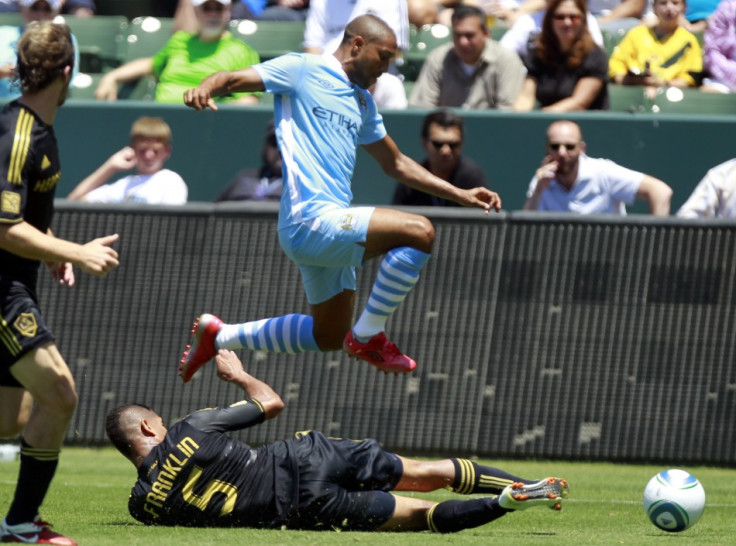 The police have launched an inquiry into reports of racism-related misbehaviour by fans of Limerick FC, an Irish football club, during a pre-season friendly with English champions Manchester City.
The incident - in which bananas were reportedly thrown onto the pitch - was not reported by the authorities until a tweet from City left-back Gael Clichy highlighted the event:
Clichy said: "How sad to see 'bananas thrown on the pitch' tonight... Knowing people around the world need food. #nowordsforthis."
Roberto Mancini's side have not lodged an official complaint as yet, but reports say officials from Limerick and Thomond Park, the venue for the match, will be conducting investigations into the incident.
A joint statement read: "Limerick FC officials met with Thomond Park officials and local Gardaí [police]... to continue attempts to identify a person that threw an offensive object onto the playing field during the friendly game on Sunday night August 5.
"An incident of this nature is completely unacceptable and is fully condemned by Limerick FC and Thomond Park. CCTV footage is still being analysed and when the offending party is identified appropriate action will be taken. It is deeply upsetting that the actions of one individual have soured the experience for all those in attendance."
A similar incident took place during Newcastle's pre-season match against Dutch club Den Haag, with African internationals Cheick Tiote, Demba Ba and Papiss Cisse subjected to racial chants from sections of the crowd. Newcastle subsequently lodged a formal complaint with the authorities.
"In reference to alleged racist chants reported during the game the club will be raising the matter with officials of Den Haag which will be dealt with privately," said Newcastle in a statement.