Manchester City and Manchester United have both invited Brazilian starlet Lucas Moura for talks over a potential move to the Premier League, the player's father has confirmed.
The 19-year-old is one of the rising stars of Brazilian football, having stared with Sao Paulo since making his debut in 2010.
Such is his reputation that talks between himself and a number of European giants have already taken place, with Real Madrid, Inter Milan and Chelsea having already begun discussions.
"Everyone in Europe would want Lucas," Jorge Rodrigues told UOL.
"(Jose) Mourinho told me if there is a kid ready to play in Europe then it is Lucas. Guardiola and Inter's manager said the same."
News of the attacking midfielders' talks with the trio being leaked to the media has not surprised the Rodriguez camp, but his father warns a move to Europe might not come until after the 2014 World Cup in his homeland.
"It would leak out in one way or another, but Lucas (Moura) is well prepared. He knew we were there. We do not keep secrets. He is the one who decides," he added.
"He has a commitment with Sao Paulo, so there is nothing to talk about. He does not want to leave and I do not want that either.
"He told me he wants to be in Brazil until the World Cup."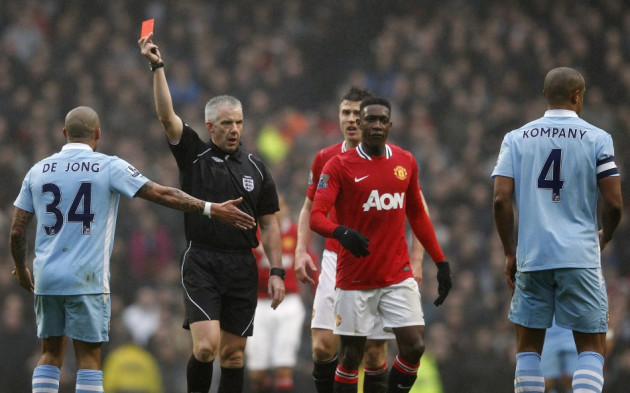 Moura's talks with Chelsea are unlikely to be his last on English shores and despite a raft of links with a move to Liverpool, both City and United are set to begin talks with the Brazil international.
"They invite us to go and we go, without any commitment, it is good to know," Rodriguez added.
Lucas needs only look to the success of other Brazilian's in the Premier League as a decent indication as to his future prospects, with Chelsea's Ramires, Liverpool's Lucas Leiva and United's Anderson having all adapted well to the demands of English football.
Liverpool were reported to be the favourites for Moura's signature last year, however reports suggested the player felt he was better off staying in Brazil.
Meanwhile, City and United will square off in the Manchester derby on Monday evening, with the Premier League title potentially at stake in a game build as one of the biggest in the division's 20-year history.
The pair have blown substantial leads in the title race already this season, with United's draw against Everton allowing City to cut the gap to three points with three games of the season remaining.