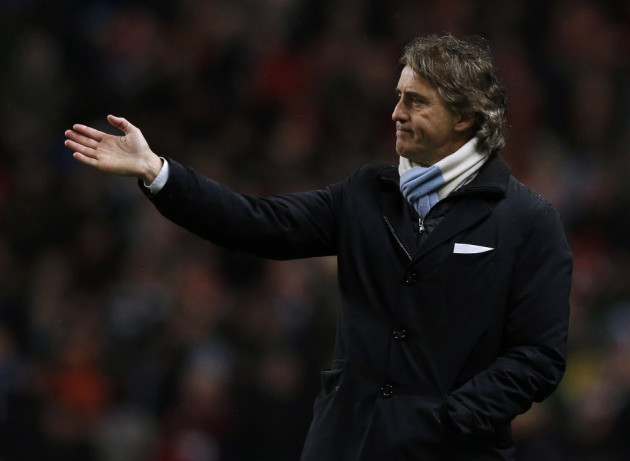 Roberto Mancini says he wanted to sign Eden Hazard, Robin van Persie and Daniele De Rossi last summer, but tinsists that Manchester City's owners refused to sanction the moves.
It has long been documented that City were chasing van Persie in the 2012 summer transfer window, but Manchester United stole the march on their rivals by putting in an offer that the then-title holders couldn't compete with.
Van Persie has since been credited with being the difference in United's title push as Sir ALex Ferguson's side reclaimed the Premier League trophy.
And now Mancini has revealed that De Rossi and Hazard were also top targets but he was blocked by the board.
"I wanted to change something after winning the title, I wanted to make three big signings so the team could be relaxed," he told Corriere dello Sport.
"I asked for Van Persie, we had an agreement, I knew he was ready to make the difference. And I also suggested to sign De Rossi and Hazard. But we didn't make any move."
Mancini is now looking ahead to his own next move after the Italian was sensationally sacked by City just before the end of the 2012-13 season.
The actions by the owners were slammed by the majority of fans, and Mancini insists that had he stayed he would have worked hard to keep bringing big names to the club.
"If I had stayed at City, I would have done everything to sign [Edinson] Cavani," he explained. "We were close to him. He's an extraordinary player. Also Fernandinho is my choice."
While many have credited van Persie with winning the title back for United, iit was as much City's own faltering that allowed Sir Alex Ferguson's men to take back the trophy.
United's points were exactly the same as the tally which they acquired in the 2011-12 season, where the title decider went down to the final minutes of the campaign, while City lost 11 points over a comparison of the two years.
Mancini insists some of that loss was as a result of Mario Balotelli's drop in form, with the striker struggling both on and off the pitch before securing a move to AC Milan in January.
"We missed Balotelli's goals, but he was unhappy in England," he said. "He, like [Luis] Suarez, was constantly attacked by opponents, referees, fans. It's also true that he didn't do anything to avoid some situations.
"Our fights? It was nothing. I just got angry with Mario after a rough tackle. Thirty seconds of verbal argument and it became a matter of discussion.
"Pellegrini is a good coach, it's logical he will do a good job. The team is top."