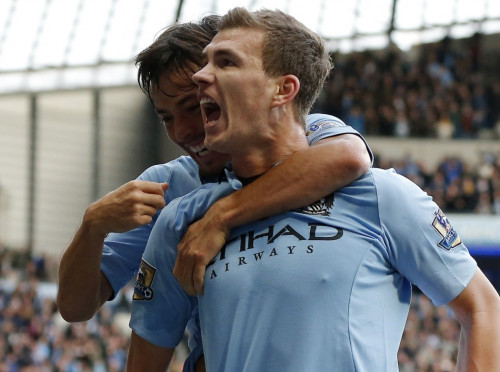 Manchester City's 100th goal in all competitions this season is the first to have been 'awarded' by the Hawk-Eye monitoring system in the Premier League since it was installed at the beginning of this season.
In Saturday's match against Cardiff City at Manchester's Etihad stadium, City striker Edin Dzeko scuffed his shot, which bounced goal-wards before being cleared by a Cardiff defender.
Referee Neil Swarbrick, apparently believing that the ball had been cleared before crossing the line, failed to blow his whistle and was on his way back from the Cardiff area when the Hawk-Eye wrist-mounted device alerted him that the ball had crossed the line. He immediately awarded a goal to the home side.
The first goal to be awarded by Hawk-Eye came for Frank Lampard of Chelsea against Sunderland in the Capital One Cup against Sunderland in December, though the goal was eventually credited to Sunderland's Lee Cattermole.
Ironically, it was Lampard's ungiven 'goal' for England at the last World Cup, in a match against Germany, that prompted the introduction of Hawk-Eye in the first place.
Watch Lampard's 'goal' against Germany in the 2010 World Cup on YouTube, below: