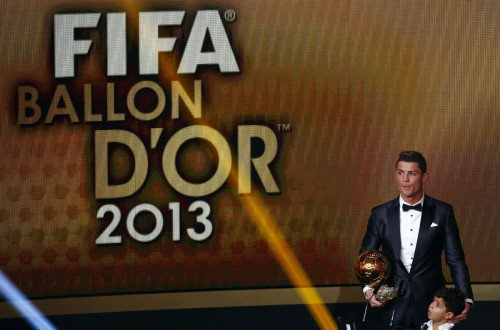 If individual sporting awards truly do not matter, then Real Madrid and Portugal winger Cristiano Ronaldo had a funny way of showing it as the 28 year old dethroned Lionel Messi as the world's best footballer by claiming his second career Ballon d'Or in Zurich.
The suave Iberian duly acknowledged both teammates and family but as he threatened to slip into the robotic guise the media recognise as the modern-day footballer, Ronaldo gushed with emotion. The journey to sit at the summit of world football is finally over, an unrelenting crusade in 2013 which saw him score 69 goals in breath-taking fashion.
In reality, Ronaldo's relief should come as no surprise, given how the voting system of the Ballon d'Or has rapidly become political and choreographed; in stark contrast to how both players have graced world football across the past 12 months. For those taking note, neither Ronaldo nor Messi voted for each other.
There remains little doubt that the foundations of Ronaldo return as the world's best player were built at Manchester United, under the majestic Sir Alex Ferguson, whose development of the Portuguese international must go down as one of his finest achievements.
Alongside Wayne Rooney, Carlos Tevez and Ryan Giggs, Ronaldo was among the most talented generation Ferguson formed at Old Trafford, and success, including his first Ballon d'Or, came with it.
At Madrid, his role is an altogether different one. If Ronaldo was forced to share the limelight at United (Ferguson's totalitarian approach would have had it no other way), he is without doubt the leading figure in the Spanish capital.
No longer is he a boy among men, Ronaldo's meteoric rise since moving to the Bernabeu is beyond belief. He isn't so much a match winner, but the match itself. A phenomenal goalscoring record of 230 goals in 223 Real appearances means he blesses every game in which he figures.
In 2013, you'd be wrong to think Ronaldo's record came in vein as Real played bridesmaid in La Liga, the Champions League and the Copa del Rey. Across two matches in November he dragged Portugal kicking and screaming into the 2014 World Cup with the most outstanding individual performance in world football last year as his second leg hat-trick downed Sweden.
It was a performance which, although FIFA officials might object, provoked the extension of the voting deadline for the Ballon d'Or. Although the world governing body again deny the result was altered, anyone would have been forgiven for handing Ronaldo the award then and there after the brilliant treble in Stockholm.
Just like his showing that night, when he chased down passes of Joao Moutinho, Ronaldo's crusade towards the Ballon d'Or has been compelling, joyous and destined for glory. There has been no stopping him.