Manchester police defend shamed officers for having 'well earned' tea break
Someone took a sneaky photo of two officers taking a break in Caffe Nero and posted it on Twitter.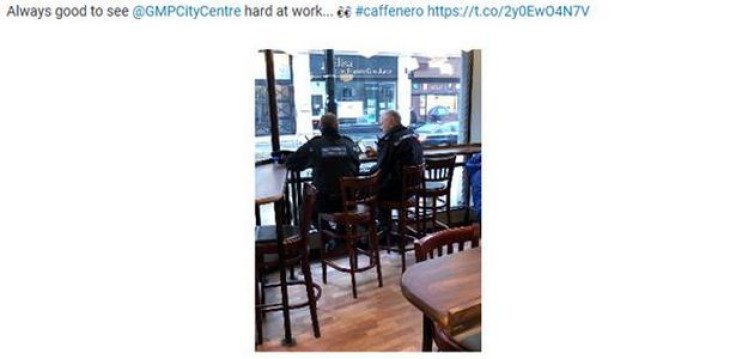 Manchester city centre police has reacted robustly to defend officers who were shamed on social media for having a well earned tea break.
Greater Manchester Police Inspector Phil Spurgeon used the GMP City Centre Facebook page to explain why the officers had been justified to sit down with a brew in uniform in Caffe Nero.
A photo of them taking their break was posted to Twitter by a member of the public, whose identity has not been disclosed. The sarcastic photo caption read: "Always good to see @GMPCityCentre hard at work..."
In response, Spurgeon defended his officers' right to take a break, and revealed their recent individual challenges in the line of duty.
One of the officers deals regularly with anti-social behaviour over 10-hour work shifts, while the other has given life-saving CPR and first aid twice in recent weeks and been modest about his efforts to colleagues.
Spurgeon wrote: "That's PCSO B. He'll be on his feet all day during a 10-hour shift, helping people and dealing with anti-social behaviour across the city centre, but focusing on Chinatown and the surrounding areas.
"He's with PC S. He's on his feet all day too, dealing with ASB and crime, and saving lives. Last weekend he gave first aid to a man who had his face slashed from the edge of his mouth to his ear. Recently, he gave CPR to a man and saved his life. PC S is modest about his work; he didn't tell us about saving the man's life - the paramedic did, and so did the man's daughter who wrote to us and said thanks for saving her dad's life."
Spurgeon said the post was unfairly critical and explained that taking breaks in public means that officers are still able to quickly respond to any incidents, as well as continue to engage with the community.
He concluded: "If you see our staff and they're not keeping to the high standards you and I expect, we have no issue with fair criticism and we'll deal with that. But if they're just taking a well earned break, and doing that in the public eye, please give them the support they need, even if that's just saying Hi."
Following the GMP post, which has been liked more than 2,000 times since it went up on Saturday, the force has been overwhelmed by the public response and support.
Many praised Spurgeon - "well said boss" - and added they would have offered to pay for the officers' food or drink, or let them go first in the queue, rather than shame them on the internet.
One commenter said: "They may be taking a well-deserved break but notice how they have taken seats at the window so they are able to see what's happening in the street outside. Stop criticising our overstretched, hardworking Police."
A restaurant worker in the branch next to busy Manchester Piccadilly station said officers were welcome there anytime, and promised a discount. He wrote: "We get the British Transport Police and Armed Police in pretty much every day grabbing their coffees and wraps to eat whilst on the go. Nothing better than seeing them in the restaurants taking a break, just makes people feel that extra safe in an area full of drunk and drugged up people.
"They're welcome to take a well-deserved break in the restaurant any time they like, that's with discount too."