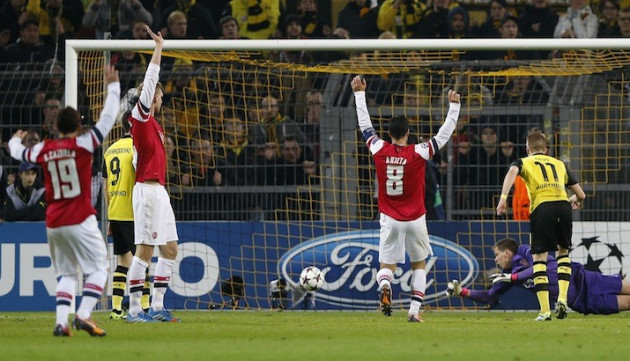 Manchester United favourite Gary Pallister believes that Arsenal are currently playing the best football in the Premier League, admitting they won't have as much pressure as David Moyes' squad when the sides face one another this weekend.
The Gunners are currently flying in both the Premier League and the Champions League, and on the back on wins against Liverpool and Borussia Dortmund the side appear to be unstoppable as they aim to finally break their trophyless spell.
United's start to the season has been far less glamorous and the side currently sit in eighth place in the table. Pallister says that with Arsenal currently eight points ahead in the race for the title they are definitely in the driving seat no matter what the result is this Sunday.
He told Sky Sports: "They've got some good young talented players in there , some experienced ones and they've obviously added Ozil to that squad, a big time player, and they're playing the best football in the Premiership at the moment.
"If we were to go 11 points behind them I think it will be a difficult task, it will take a long while before we get ahead of them again if we get our straps and play to the form we're capable of.
"It's set to be a great battle but Arsenal can go in there a bit more relaxed.
"At the beginning of the season there were a lot of people ready to shoot Arsenal down, I think they've bounced back in tremendous style as I said I think they're playing the best football now, they have been for a while. Real tough battle for United at Old Trafford, if United can win I think it's a real statement for them."
Much of United's problems this season have been blamed on a difficult summer transfer window for incoming manager Moyes.
The club pursued a number of targets but were only able to land Marouane Fellaini on deadline day and Pallister believes that the Scot, who Sir Alex Ferguson has put his faith in to carry on the success at Old Trafford, will find his feet after spending a significant amount of time with the players.
"I think maybe he's still looking to find which is his best central partnership but he's looking at that all over the pitch as well, he's not long been at the club," he explained.
"He's got to find out about the players, they're still coming to terms with a new manger after 26 years of Sir Alex, there were always going to be teething problems.
"I think players at the moment, the likes of Januzaj are proving they should play week in week out because they're having an impact on the team and making a difference."