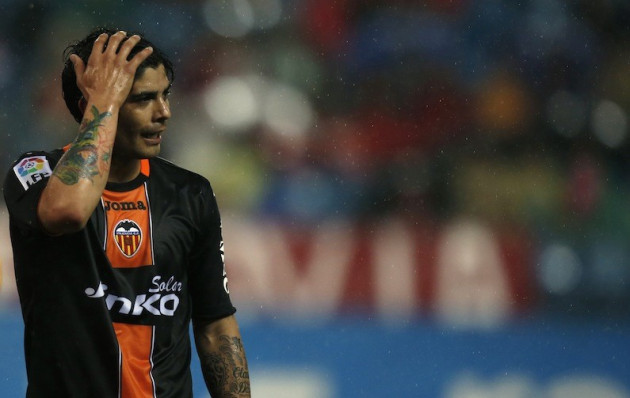 Arsenal and Manchester United have been boosted in their pursuit of Ever Banega with the Argentine midfielder's agent admitting that he's looking into the possibility of leaving Valencia in January.
Banega made the move to Valencia from Boca Juniors in 2008 but has since found himself suffering from a lack of game time with the Spanish outfit. As a result his exit appears immanent and with an upcoming World Cup the Argentina international wants to get maximum time on the pitch to prove himself for selection.
Arsenal and United are just two clubs in a host of possible suitors for the 25 year old, with David Moyes looking to try and finally fix the problems his side have had in the middile of the park while Arsene Wenger is constantly on the lookout for players to link up with summer signing Mesut Ozil.
And Banega's agent Marcelo Simonian has now confirmed that he is in contact with clubs over a possible move and will be assessing his options in the coming months.
"I can only tell you that we are already talking with several clubs in relation to the next window," he said, according to the Express.
"In the next few days I will be travelling to present all the options to Valencia."
With Banega's game time of the upmost importance in preparation for Brazil, with Argentina already having qualified for the World Cup, a club that can offer him immediate chances will likely be at the forefront as Southampton, Inter Milan and Napoli also monitor the situation.
For United particularly though he would certainly be on call straight away for a starting spot with Moyes admitting that the summer transfer window was a disappointing one for the club. The Premier League title holders were only able to land midfielder Marouane Fellaini and so far he has failed to set Old Trafford alight with his performances.