Full time: Manchester United 0-0 Chelsea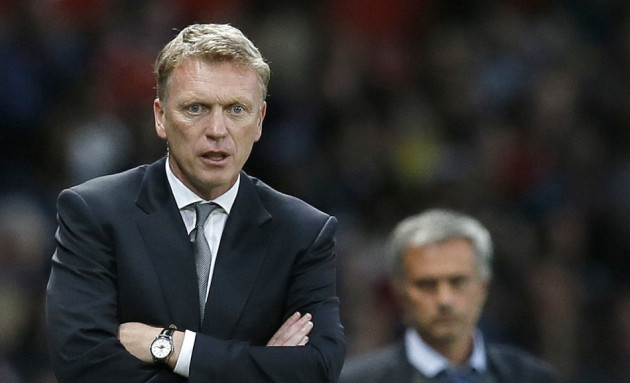 21:56: But never fear, with Arsenal's Champions League run continuing and a feast of fixtures this weekend including Liverpool v Manchester United - the blue ribbon fixture of any Premier League season, there is plenty of football to look forward to this week. Until then, goodbye.
21:54: Well all in all, that wasn't a great surprise was it? Chelsea came with no really desire to take the game to Manchester United while the home side looked nervy in David Moyes' first home game in charge. Wayne Rooney was outstanding from start to finish but he wasn't enough to down a club he may yet sign for before the end of the transfer window. Mourinho the happier, but only just.
Full time: Manchester United 0-0 Chelsea
21:48: Three minutes added on at Old Trafford. No more please.
21:47: Bit of goalmouth action at last after a long lull in this game. Jones' cross is headed up rather than out by Cahill, Van Persie hits a volley off target at Mikel before Evra hits wide.
21:43: Well if there was ever a sign Jose Mourinho only really had a point in mind tonight it comes from his second substitution as John Obi Mikel replaces Andre Schurrle.
21:42: Stoppage in play as Evra gets some treatment after a collision with Nemanja Vidic. Nasty throat problem for the Frenchman.
21:38: Yellow card for Fernando Torres after fouling Cleverley. Bit of an odd one.
21:36: Rooney combines with Welbeck and hits another from 30 yards and Cech turns it behind. Been head and shoulders above the rest has Rooney. Welbeck off Ryan Giggs (who?) on.
21:33: Ashley Young's first involvement almost helps United the lead as his cross evades Welbeck but Cech is forced to push it away. Chelsea clear but down the other end Vidic gives away a corner from Ivanovic's cross. United clear the danger which much going to Rooney, who tackles back when Ramires looks to get free. No question over his commitment there.
21:31: With 20 minutes left this game isn't starting to drift into a bit of a non-event. Neither side anywhere approaching their best with passes missing their men. Ashley Cole wants a penalty after some contact with Phil Jones, but the incident in question looks both outside of the box and not sufficient to draw a foul. Martin Atkinson was having none of it.
21:24: Rooney holds off Cahill and shoots from 30 yards but Cech deals with it without alarm. At the other end, Hazard's cross is towards the back post, but Oscar can't reach it. First change for United, Ashley Young replaces Antonio Valencia.
21:21: Manchester United want a penalty. Valencia's cross is met by Cahill but the ball goes to Cleverley who hits one back and it seems to strike the arm of Frank Lampard. Martin Atkinson waves away appeals.
21:18: Valencia chooses badly after he skins Ashley Cole and Chelsea can break. The attack looks like petering out but Gary Cahill smashes goalwards; an effort which is well held by De Gea. As Schurrle is given offside, De Bryne is replaced by Fernando Torres.
21:14: More intent from the home side. Van Persie moves the ball on to Welbeck who cuts inside and curls goalwards but it is high and wide. Rooney finds Welbeck from the very next attack, but he shoots over. Best chance of the match a very poor finish follows.
21:09: Good start from United and Patrice Evra will be wondering what if. The Frenchman exchanges pas with Rooney and runs at the heart of the Chelsea defence. Welbeck makes what looks like a decoy run but Evra tries to find him, and the Engishman's return pass is short and the attack fizzles out.
21:07: Plenty of early signs that this should be a more open half of football in the opening exchanges. Oscar was outnumbered at one end before Rooney over hit a pass to Van Persie. Lively start to the second half.
21:03: Underway in the second half. No changes.
21:02: How keen will both sides be to lay down a market ahead of the new season? You'd think very keen but neither have shown much adventure in attack. Will surely see more in the second half. Both teams out for the second half.
20:59: In an attacking sense, it's hard to be convinced that Chelsea's formation or decision to employ Andre Schurrle in attack is working. For United, we've seen signing, particularly from Rooney, that the chances can come but it hasn't been very gun-ho from the defending champions.
20:49: The old sporting adage of 'it can only get better' is worth spouting at this stage. Very poor game thus far.
Half time: Manchester United 0-0 Chelsea
20:47: Genuine half-chance for Chelsea. De Bruyne feeds Hazard and when Phil Jones get a touch in the ball falls to Oscar, who with the bal under his feet, somehow manufactures a shot which is low and straight at De Gea. One added minute.
20:45: United lacking a final ball. Phil Jones and then Rooney fail to find the telling ball to cause Chelsea problems. Valencia now clears the ball out of play under no pressure. Bit rusty lads?
20:40: This really has been a shocking first-half. Two shots on target, both as meaningless as each other. Phil Jones is down with a shoulder problem after falling awkward following a challenge with Ashley Cole. Tom Cleverley hits one from range after some neat United build-up but it flies over. A good chance on the basis of the first half.
20:35: Well looks like Kevin de Bryne is the victim of fouls by Ashley Cole and Antonio Valencia as Atkinson shows a yellow card the Belgian's way after he blocks Van Persie's progress in his own half. Closer inspection suggests on the follow-through he got a elbow from Van Persie. Nasty.
20:33: Last chance saloon for Antonio Valencia who hacks down Oscar leaving the Brazilian anything but injured on the turf. Atkinson refrains from showing a yellow card.
20:31: The good the bad and the ugly side of Wayne Rooney in this opening 28 minutes. Very much the latter from the England striker on this occasion after his raking pass goes out of play. He does though get a shot on goal which is comfortably saved by Cech. United's tempo has improved but Chelsea look solid. Reminds me of how they played under another manager. Forget his name...
20:26: Van Persie has been on the peripheral for much of the first 22 minutes but he wastes little time in shooting when in view of Petr Cech's goal with an effot from a tight angle which thunders into the side-netting. Patrice Evra finds Van Persie this time from a cross but the Dutchman can't control it.
20:24: Chelsea having the better of the attacking moments in this match. De Bruyne combines with Oscar who skews wide with his right foot. Hasn't got going this one.
20:20: "We'll see you next week" is the chant from the Chelsea supporters when Rooney gets the ball now. Rooney does get the ball in an advanced position but Terry cuts out his cross as Danny Welbeck came in at the back post. Even at home, very notable how many players United have behind the ball when they don't have it. Chelsea being allowed time and space in possession.
20:17: Ashley Cole takes out Robin van Persie on the half-way line and Martin Atkinson refrains from showing a yellow card. One more chance for the England full-back.
20:15: Good interplay between Welbeck and Van Persie sees United win a corner. Van Persie takes it but John Terry heads clear with typical authority.
20:13: First effort in anger comes from Chelsea. Ferdinand only half-clears Ramires' cross and Oscar's snap shot is straight at De Gea. Worth noting that both sets of fans are chanting Rooney's name when he touches the ball. Debatable if either set should be.
20:10: This live text is in danger of becoming Wayne Rooney watch but in truth there has been very little goalmouth action to speak of so far. Chelsea look very solid so far as United give the ball away through Carrick.
20:08: Any doubt over how the Old Trafford faithful would receive Rooney has been emphatically quashed. Rooney hassles and hurries Ashley Cole and then John Terry into errors. He concedes the foul but his point is made.
20:06: First sight we've seen of Wayne Rooney. He collects the ball from Van Persie and takes on John Terry. The former England captain is well placed however but he wins the ball back. Looks a bit more up for it tonight.
20:04: Schurrle starting through the middle for Chelsea early on here. Hazard left and De Bruyne right at the moment. Likely to change if Mourinho's 'mobility' explanation comes to fruition.
20:00: Players are out, pleasantries re over and we're ready to go. David Moyes given a typically rapturous reception. Both sets of teams are holding a minute's applause for Jack Compton, the former Manchester United goalkeeper, who died in July
19:50: Andre Schurrle or Eden Hazard will likely lead the Chelsea attack at Old Trafford tonight. Schurrle makes his full Chelsea debut since his summer move from Bayer Leverkusen while Hazard began in attack in the Champions League group match against Roberto di Matteo last season. The Blues lost 3-0 and the Italian lost his job. Doubt we're in for a similar finish to the evening, but Chelsea have already had a bad experience without a leading front man.
19:43: David Moyes on Sky Sports: "Never thought about it (starting Wayne Rooney) at all. He's a Manchester United player and I hope he plays well tonight.
"Great for me (first game at Old Trafford) great for my family and it's a great night and I'm looking forward to it."
19:40: Jose Mourinho on Sky Sports: "I can't (explain my team) because I think David will be listening to this interview.
"I go for mobility I want to try and win the game. I don't come with a defensive team I want to try to win but instead of playing with one target man I'm paying with four attacking players.
"Win or lose I have to make decisions. In the week we were all very happy and the players also so we go together and we finish together hopefully for the good.
"Not really (a surprise) to see Rooney, they have him why not play him?
"I was ready for this we have to see if we cope with him. Normally he is a player who plays just behind Van Persie but has fantastic quality he can score inside the box he can score inside the box. He is a very good player."
19:31: Plenty of sub-text to those starting line-ups from Old Trafford, more so from Chelsea. No striker in the starting XI says two things to me. Firstly, that Jose Mourinho is looking to monopolise possession and frustrate Manchester United, rather than looking to go forward. Secondly, the non-selection of a forward is a sign the Portuguese boss doesn't have confidence in any of his forwards available to lead his line. It's a bold and risky move, but it might increase his leverage in the transfer window.
19:18: For Chelsea, Jose Mourinho has perhaps delivered a stark message to his own squad and the Blues hierarchy by failing to name a striker in his starting XI. Fernando Torres and Romelu Lukaku are on the bench but Demba Ba hasn't travelled. Elsewhere, Juan Mata is on the bench also. Kevin de Bruyne and Andre Schurrle both start. Phew.
19:15: Like it or not, but the news that Wayne Rooney starts for Manchester United is the headline team news if you're a follower of the Premier League champions. Rafael is out so Phil Jones comes in at fullback. Danny Welbeck and Robin van Persie complete the three-pronged attack.
19:14: Teams:
Manchester United: De Gea, Jones, Ferdinand, Vidic, Evra, Carrick, Cleverley, Valencia, Welbeck, Rooney, Van Persie. Subs: Lindegaard, Smalling, Buttner, Anderson, Giggs, Young, Kagawa.
Chelsea: Cech; Ivanovic, Cahill, Terry, Cole; Ramires, Lampard; De Bruyne, Oscar, Hazard; Schurrle. Subs: Schwarzer, Azpilicueta, Essien, Mikel, Mata, Lukaku, Torres.
19:06: That 'some capacity' is in fact from the start. Wayne Rooney in the United first team tonight. Rest of the teams to follow, there are 21 other players apparantly.
19:05: It would be ignorant to neglect a certain Mr. Wayne Rooney on an evening such as this. Jose Mourinho, in search of a new striker, has said his pursuit of the England international will resume after this game tonight. After his summer exploits, Rooney was given a good reception during his cameo appearance in the 4-1 win over Swansea City but in front of his home fans will he be as warmly received? He is expected to be involved in some capacity tonight.
19:00: Just two weeks into the new season and the Premier League provides us with the first chance to see two of the expected main protagonists for the title in action. David Moyes' first home game in charge of Manchester United couldn't be tougher with the visit of Jose Mourinho's Chelsea, who have won both their leagues games this season. Strap in.