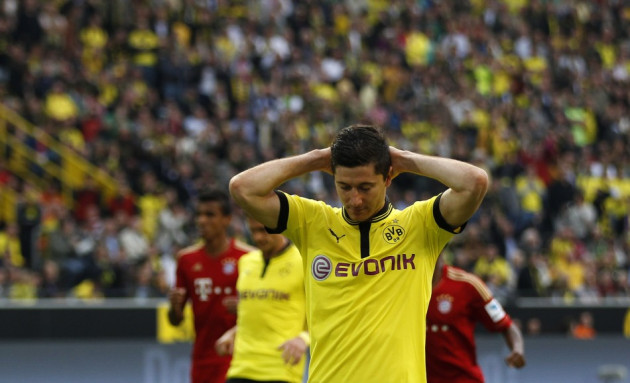 Manchester United and Chelsea's pursuit of Robert Lewandowski appears to be at an end, with after Borussia Dortmund manager Jurgen Klopp admitted the striker will likely sign for Bayern Munich at the end of next season.
Lewandowski has made it clear he wants to move to the Bundesliga giants, to work under Pep Guardiola and join a side touted for greatness on the back of winning the first major treble in German history.
Dortmund had so far insisted that Lewandowski will not go to their biggest rivals, even though his contract is entering into it's last 12 months.
United and Chelsea had both been monitoring the situation in the hope that Dortmund might prefer to sell the Poland international abroad, but Klopp says despite holding onto Lewandowski for the coming season, he will join Bayern next summer.
"I think it is a known fact that Robert is going to play for Bayern after the upcoming season," he told Welt am Sonntag. "Now the only question is how to shape the time until then. That is our concern and it is our commitment to our fans and members to ensure that we will have a more competitive team in the upcoming season.
"Up to a certain point we were with Robert's desire for change and were ready to talk. But nothing happened so we had to eventually say: '[A sale] now no longer works for us.'"
Dortmund are mindful of just how signficant Lewandowski's 34 goals last season were in their race to the Champions League final and a second place finish in the league.
While Bayern beat them to the Bundesliga title in record time, Klopp argues that the Bavarian side's performances against Dortmund - they drew in both their league games last season - showed they are anything but untouchable.
He explained: "Bayern was in all likelihood the best team in the world last season, but they did not fight in the league in our two confrontations. We can draw from the fact that we did not win last season but received some strength and motivation.
"We have a bow and arrows, and if we just aim, we can fly. There is the assumption that Bayern has the equivalent of a bazooka. They are likely to take on thousands, but we can be like Robin Hood."