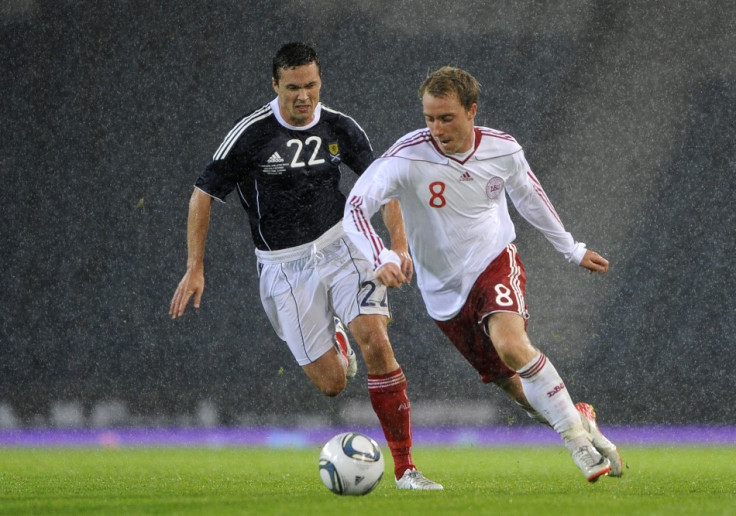 Christian Eriksen is being watched by scouts from Manchester United, according to assistant coach Rene Meulensteen, with the midfielder touted as fitting into the club's 'transfer policy' of moving for younger players who have shown potential for greatness.
At just 19 years of age, Eriksen is the subject of a great deal of transfer speculation lately, particularly after working his way into the Denmark senior international side before growing out of his teens.
United have long been said to be front runners to sign the starlet, and hints were given by Sir Alex Ferguson that he could be a top target when the manager admitted he has been watching a group of players who might not be available this January.
"[I won't buy] unless someone appears we have always been interested in, but there isn't [anyone available at the moment]," he said at a press conference last week.
And now Meulensteen has confirmed that Erisken is on United's transfer wishlist, though he has insisted that a move isn't likely for the next window at least.
"This is a player that is on our radar," Meulensteen told Voetbal International.
"But that is to be expected. If people weren't looking, no-one would ever have an opinion on these players.
"It is true that a player like Eriksen would fit our transfer policy.
"He is being strongly linked with us, but to suggest that we are about to make a move is not true."
And in more proof that Ferguson is chasing Erisken, after the United man said his top targets are currently not available, agent Martin Schoots believes that his client will take his time deciding his next step.
"Christian must weigh up every step he takes in his career," Schoots said, as reported by Sky Sports.
"He gave a lot of thought to joining Ajax. Last summer he could have gone to England, and a German club was very keen, but he passed the opportunity up.
"He has signed a contract at Ajax and a transfer is not an issue at the moment."
United will get a huge taste of Erisken's skills when the English giants take on Ajax in the Europa League, after both sides were eliminated from the Champions League group stages.