Cristiano Ronaldo believes that Real Madrid can beat Manchester United in the Champions League if they play their best football, with the former Red Devil claiming there is more pressure to dominate in Europe at his current club.
Madrid are looking likely to be out of the race to keep the La Liga title, with bitter rivals Barcelona now 18 points ahead and Atletico Madrid firmly entrenched in second place in the table.
And as the side prepare to take on United next month in the Champions League last 16, Ronaldo believes that despite Sir Alex Ferguson's men looking the stronger side domestically, they can be beaten.
"No team's unbeatable, but when we're at our best we're a really good side," he told FIFA.com.
"Manchester United have started the English championship race very well and are a long way ahead of the rest, but still, if we play the way we're capable of, we can beat them.
"To do that we need to pull together and play as a team, like we've done in so many matches before."
Ronaldo has the advantage of knowing his adversaries particularly well, having found stardom at United under Ferguson's direction.
And the Portugal international says that he believes the pressure is much higher to succeed at Madrid than he ever felt at United.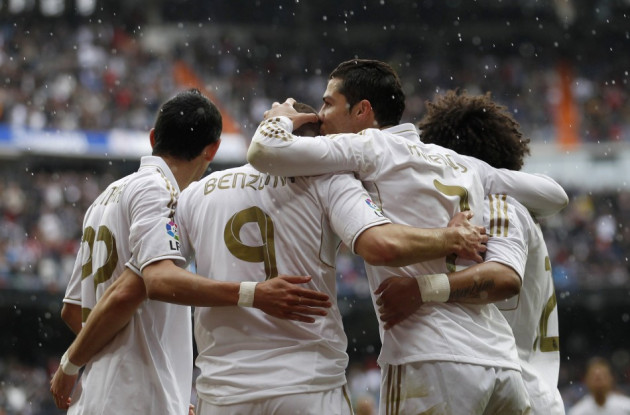 "They're the best two clubs in the world and that's why it's always difficult to be successful with them," he explained. "They've got positive things and less positive things. I think there's more pressure at Madrid than at United.
"I've been here for three-and-a-half years now and I think that's the case because everyone involved in totally focused on winning the club's tenth European Cup. That creates a certain amount of anxiety, which can be felt at all times.
But Ronaldo admitted the pressure is sometimes too great at the Spanish club, where he has revealed in the past he has suffered grievances.
He said: "I think that, yes, the pressure is too great and that sometimes it can affect us. But we have to try and rise above it and not let what people say get to us, particularly the media, as Real Madrid get spoken about every day.
"At the end of the day it comes down to an individual decision, whether you want to read the papers or not. I don't think what the papers say matters too much, so there's no need to overdramatise the issue."