Edwin van der Sar is set to enter into management, according to Dutch newspaper De Telegraaf, with the former Manchester United keeper believed to be open to the idea of joining his old club Ajax behind the scenes.
Van ser Sar is thought of as one of Europe's best ever goalkeepers, and after his retirement from United seemed to come too soon, the keeper has admitted that he misses the game and would one day go back to it in a managerial capacity at least.
Former Dutch footballer Marc Overmars became director of football at Ajax this year, and van der Sar is believed to be considering working alongside the ex-Arsenal man, and also Dennis Bergkamp who works as an assistant coach at the club, in a CEO-type role.
Van der Sar recently admitted as he prepared to watch United take on Chelsea that he missed being a part of the action, and after insisting retirement was permanent, management could be the answer for the Holland legend.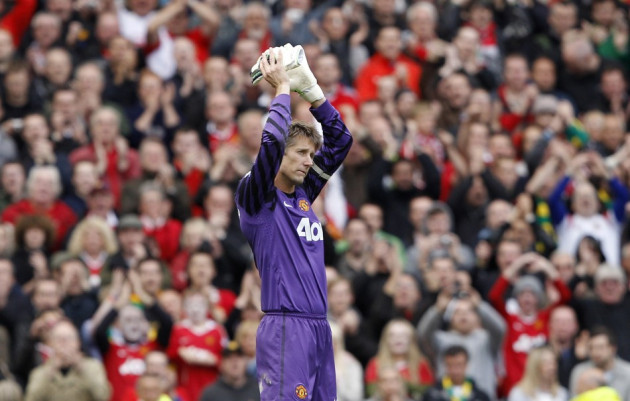 "Playing is the biggest thing there is," he said at the time. "You want to experience it for as long as possible and when you see people like Paul Scholes playing you think 'maybe'.
"It is such a great life. I would urge anyone to cherish every moment.
"Life is better now, but in a different way. I have more time with my family. There is not as much travelling.
"But nothing can replicate the thrill of making a great save at an away ground, or hearing your own fans cheering you, or the atmosphere when you score a goal or win a big game."
The former keeper recently completed the New York marathon, and with reports claiming that he has responded positively to Ajax chairman Hans Wijers over taking a director job at the club, this could seal a new chapter in van der Sar's footballing career.