When Graeme Souness offers advice on signing a player, some fans may have trouble taking him seriously. This, after all, is the man who once signed a player simply because he claimed to be George Weah's cousin.
But Souness has given us one maxim that all Manchester United fans can relate to at the moment – and one that cuts to the core of Angel Di Maria's ineffectiveness at Old Trafford.
"Never sign a player who thinks he's doing you a favour," Souness once said. His belief was that a club should always sign a player from a lower station, who will view his new employer as a step up, rather than buying cast-offs on the way down who will view the move as a disappointment from day one.
It's hard to remember United doing any player "a favour" in this way over recent years. Most of the club's signings have been young prospects, or established stars plucked from the Premier League and smaller clubs on the continent. Many fans, this one included, railed at this strategy, believing it was the unfortunate consequence of Glazer penny-pinching rather than a coherent transfer policy.
But, when you watch Di Maria at the moment, that approach makes more and more sense. Because United's £60m summer signing appears to believe he is doing United a favour. And he is very much mistaken.
Opting for star signings
Di Maria was arguably United's biggest signing since Juan Sebastian Veron in 2001. The first time in 13 years that United had snared an established star from one of Europe's glamour clubs, at the peak of his career for a premium price. Sure they signed Robin van Persie in 2012, but the Dutchman had just turned 29 and it's hard to argue Arsenal – who had been beaten 8-2 by United the previous year - were a genuine force at that time.
Di Maria was a different story altogether. He signed for United after winning the Champions League with Real Madrid, for whom he was the creative fulcrum. Madrileno fans were desperate for him to stay and United had to shell out a British-record fee to complete the deal. To fans desperate for reassurance after the David Moyes disaster, it seemed we were running with the big boys once again.
But Di Maria clearly didn't share our excitement. Or, at least, his enthusiasm petered out when he saw the calibre of his new teammates.
In his first few games, it seemed the Argentine could become the best player in the league; United had found a metronomic chance creation machine who also drove at defences, covering the pitch like a dervish. But, as United's limitations become ever clearer, Di Maria is becoming more apathetic by the week.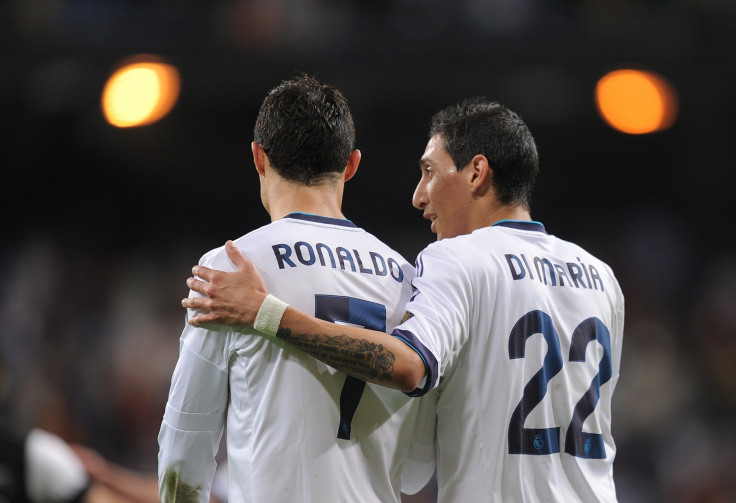 The precision of his early play has been replaced by sloppy wastefulness. Passes are misplaced, crosses overhit, shots dribble apologetically into the keeper's arms. Those slaloming runs have disappeared; these days, you're more likely to see a crunching tackle by Juan Mata than a barnstorming surge by the man in United's number seven shirt.
When Di Maria loses the ball (it happens roughly once every five minutes), he doesn't charge back to retrieve it. He simply trots back in his opponent's slipstream, perhaps waving an irritated arm at his teammate in an attempt to shift the blame. It's a bit like watching Nani – and at least he provided the odd screamer every dozen games or so.
Easy to understand
Fans have kept saying Louis van Gaal is playing Di Maria in the wrong position. But the United manager has tried him out wide, up front in a 4-4-2 and latterly on the left side of a diamond. Unfortunately, he has failed to shine in any of those roles. Sooner or later, even the most ardent optimist must accept the problem is the attitude of the player, not where he stands on the pitch.
Cynics will suggest this was always going to happen. United clearly weren't Di Maria's first choice in the summer of 2014, or indeed his second choice. The player has gone on record to say that if he couldn't stay at Real Madrid, he wanted a move to Paris Saint-Germain, who may have joined the bidding war but for FFP constraints. Given PSG can offer Champions League football, and the chance to live in one of Europe's most enchanting cities, it's easy to understand that mentality.
Perhaps United have to get used to this problem in the years ahead. If they are committed to a Galactico transfer policy, as Ed Woodward has intimated, they will have to accept some of their targets have designs on other clubs. For all its post-industrial chic, the city of Manchester isn't London, Paris or Barcelona, and United are unlikely to return to the sort of dominance they enjoyed under Sir Alex Ferguson.
Those worries are for the future, though. For now, United's powerbrokers have to work out what to do with the £60m white elephant shuffling impassively down the left wing.
Ideally Di Maria's enthusiasm will be rekindled in the warmer, drier conditions of spring and he will return to the form of those first few games. But if not, United's board have a big decision to make come the end of the season. Do they place their trust in a player who clearly doesn't reciprocate, or do they decide to cut their losses and get rid?
If they decide on the latter, they will inevitably suffer a huge financial loss. In fact, on current form, United will be lucky to recoup half the fee they paid for Di Maria. That's if they can find a buyer, of course; the interest of PSG and other potential bidders may well have been dampened by the player's performances for United, and there will be a new flavour of the month this summer.
Whatever happens, though, United would do well to learn their lesson. Mercenaries, even the most gifted and alluring ones, rarely turn out to be good value. Souness, for all his managerial travails, got that spot on.