Adnan Januzaj is hopeful that he will soon be able to force his way into the Manchester United first team after Sir Alex Ferguson picked out the youngster for special praise.
The 18-year-old was signed from Anderlecht in the summer of 2011 and was expected to make a big impact in the youth team. However, his progress was halted due to injury and it is only this season that he has been able to demonstrate his ability.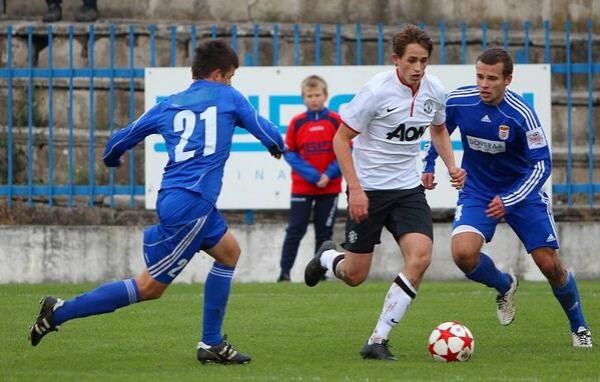 Januzaj has put together an impressive run of performances for United's Under-21 side and he hopes that he has done enough to catch the attention of Ferguson who attends every youth team game.
"I always try to do my best in every game and try to get in the team. Hopefully I can try to get in the first team in the future as well," the creative midfielder told manutd.com. "I don't think other team's managers come to watch the Under-18s and the Reserves. He is a big coach, you can't say anything more about him as he is one of the best in the world.
Ferguson is acutely aware of the importance of the academy and he has always handed opportunities to young players. He recently spoke in glowing terms about Januzaj and fellow midfielder Nick Powell, suggesting both players could emulate Danny Welbeck by becoming regulars in the first team.
"I watched Nick Powell and Adnan Januzaj in the reserves and you say to yourself, 'These are definite Manchester United first-team players'," said Ferguson. "They have outstanding qualities. We can see that. They can see that in trusting us to map out their careers, they can get to Danny's level."
So how did it feel to hear these comments from Ferguson? "Of course, it was great," declared Januzaj. "He is a big coach, the boss, and it's a good feeling. I always want to do better and better but it felt good and was a really big step for me. I hope to achieve something at Manchester United."
The Belgian youngster did go on a pre-season tour with the first team last summer and he is hoping that he will soon have the chance to once again train with these players.
"I came here to do something and focus on my football. I may be in the Under-21s but it's good to try and get in the first team even when you're 18 as well," added Januzaj. "I would love to go on tour with the first team but we'll see. I have just got to keep going."