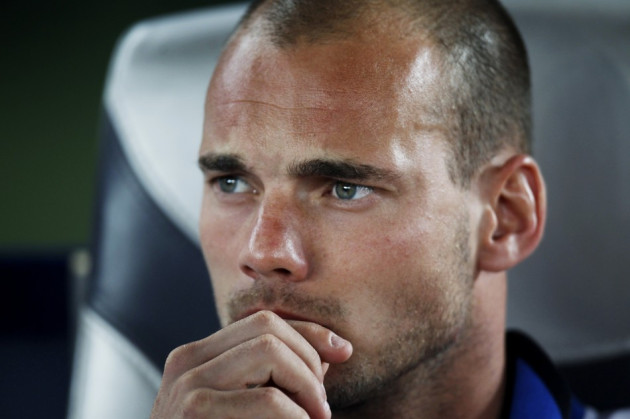 Manchester United have ended their interest in Wesley Sneijder, after sources confirmed the club were no longer trying to sign the midfielder.
Sneijder, 27, had been heavily linked with a move to United all summer as manager Sir Alex Ferguson searches for a long-term replacement for the retired Paul Scholes.
But senior sources told the Guardian that United have now officially ended their interest in the Inter Milan playmaker.
Negotiations with Sneijder's representatives stalled over the player's £200,000-a-week wage demands, with Ferguson reluctant to sign a player with little or no re-sale value at the end of his contract.
Sneijder has said there have been "unofficial talks" with United but Ferguson and chief executive David Gill have decided to end the club's interest with their position not expected to change before the end of the current transfer window.
United have also been linked with Tottenham's Luka Modric and Arsenal's Samir Nasri but it seems any deal to sign either of the midfielders is unlikely, with Chelsea and Manchester City the more likely destinations for Modric and Nasri respectively.
Ferguson has spent £50m this summer on Ashley Young, Phil Jones and David de Gea and Portuguese international Nani believes the current squad is the best United squad he's played in.
"I am very well at United," the 24-year-old told the Manchester Evening News. "I think it's the best club in the world and want to stay there and work well.
"It's good to know that big clubs are interested in me but, right no, I'm very satisfied with my club and I want to continue with them.
"I always give my best and I want to stay that way until the end of the season."