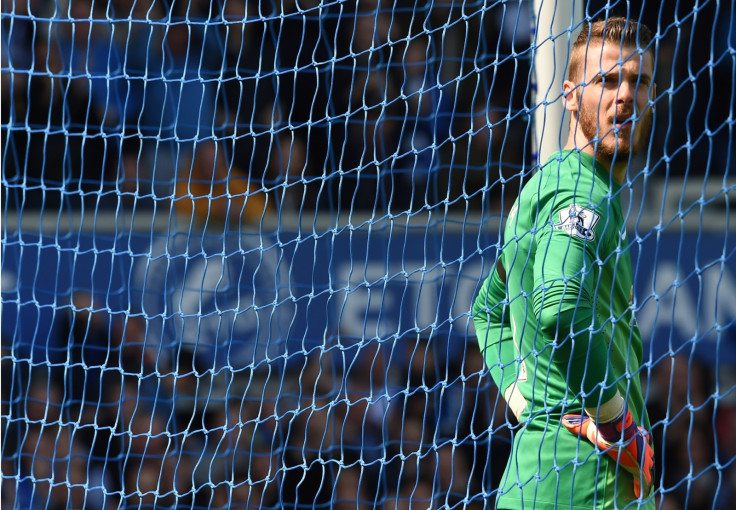 Will David De Gea play for Manchester United next season? Is he the right candidate to succeed at Real Madrid after Iker Casillas's departure due to devastating pressure?
These are the burning questions surrounding Premier League and La Liga's transfer market and, speaking to IBTimes UK, former Real Madrid and Spain goalkeeper Santi Cañizares attempted to provide the answers.
Casillas made the right decision
Santi Cañizares has an opinion about Casillas's departure. "He has gone to Porto due to media pressure. It is true that his last two seasons were not as good as the rest of his outstanding career.
"But he performed well. When Rafa Benítez arrived, he wanted to avoid media pressure when it comes to Casillas, and Iker made the right decision. Iker gains more than anyone else, as he is going to enjoy football... as long as he has the logical support of his new club. He deserves calm and a nice experience."
David De Gea, born to play at the Bernabéu
The former Real Madrid and Valencia goalkeeper does not hesitate when it comes to the subject of answering who is the best candidate to follow Casillas's steps at Santiago Bernabéu. "David De Gea, no doubt.
"We don't know whether an hypothetical Kiko Casilla signing - the conversation took place before his arrival at Madrid was official - is a way of putting pressure on Manchester United. Because Red Devils have offered De Gea a new contract, but they have not succeed and the player wants to play for Real Madrid.
"Let's do not forget that, next year, De Gea will be a free agent. We don't know what is going on, I just make myself some questions. However, I will say something. Kiko Casilla is a good keeper with certain skills, and, at the same time, he is not David De Gea, he is one step below.
"David De Gea must play at Real Madrid, as he fulfills Real Madrid's expectations. Which are these expectations? Titles and regular wins week in week out. Will he arrive at Santiago Bernabéu this season or the next one?
"We don't now, I subscribe to the view that we are watching a poker game between Los Blancos and Red Devils, still, we can not have a look at their cards and we will have to wait, this may take some extra weeks."
Old Trafford and pressure management
Cañizares is unstinting in his praise to David De Gea. "He plays for Manchester United, Premier League's Madrid.
"It might be obvious, but Bernabeu's goal dimensions are the same as the rest grounds' and, despite this, many great goalkeepers have felt that they were defending a much bigger goal at Madrid.
"You need more than skills. Sometimes is something psychological. That is why Casillas's career is so impressive. Will De Gea have an easy arrival to Santiago Bernabéu? No way. But he has the experience, the skills and, the most important thing, the personality.
"De Gea had a tough start at Old Trafford. He arrived to a new football, to a superb club, and he had to deal with setbacks. Still, he found the way and, right now, he is a star.
"They way he handled that situations makes him even a better candidate to play for Real Madrid, as personality, at the highest level, separates very often success and failure."
Barcelona or Real Madrid model?
No matter if David De Gea signs for Real Madrid in the next weeks or not, it seems clear that Los Blanco's chosen goalkeepers will not have to share goalkeeping duties along the season, as Claudio Bravo and André Ter Stegen did for the last 12 months.
"I have always preferred a model in which a top goalkeeper, a number one, plays week in week out and the other, a promising player, assumes that he will start from the bench unless there is an unexpected setback.
"But it depends on the players you have, what we saw at Barcelona were not very common. Ter Stegen was likely to play during the whole season and Claudio Bravo arrived. The chilean career is amazing.
"He started working well, as always, he made the most of the opportunities he was given and look how the season ended for him.
"Real Madrid did something similar when Casillas and Diego López had a fierce competition in the trainings. But again, as a manager I would go for the classic system."
Valencia, Yoel and swimsuits
Valencia are looking for a goalkeeper after Diego Alves's long term injury. And they are involved in Champions League qualification, which takes place in no more than a month.
"The ideal thing for the manager is to sign new players as soon as possible. But when we talk about the transfer market, early signings are pricey. The club saves loads of money if they wait until August.
It is like buying a swimsuit in June. If you wait until the end of the summer, you will save some pounds. From there on, is there a goalkeeper that guarantees Valencia no mistakes in the Champions League qualification?
"The best goalkeeper for them in the market is called Diego Alves. If he is recovering well, there is no need to worry. Yoel Rodríguez - his deputy at Valencia - is a great goalkeeper who has proved his abilities and experience in La Liga.
"He can succeed in Champions League, I trust him. He was unlucky last season, he played the matches in which Valencia performed under their level, but I remark it again: he has skills and experience. He just needs confidence coming from the club."
Valdés and Gero Rulli
Cañizares praises Valencia's former sporting director, Rufete. "He resigned as he did not have Peter Lim's support. The way I see it, it is an injustice. Under his last days of tenure, he tried to sign Real Sociedad's Gerónimo Rulli.
"The Argentinian was very happy with the idea. But the situation changed at Valencia, and Rufete and Roberto Aiala left while Rulli was not the right candidate for Valencia's owner Peter Lim. Rulli has generated big expectations after his first season in Europe.
"But confirming expectations it is as difficult as cutting your teeth in European football successfully. Real Sociedad must be very happy and sad at the same time. Happy to have him for an additional year.
"Sad because Rulli's rights belong to a investment fund and they had no option to buy him. If he can perform as well as last season, he will be Argentina's goalkeeper in the short term".
Valencia is now about to sign Manchester United's Victor Valdés. "After his injury, he has played with United's reserves. A proper sporting director would know what his current physical condition is. I don't know it. And Valencia does not have a sporting director so I assume they might find difficulties to know it as well. I hope they make the best decision".