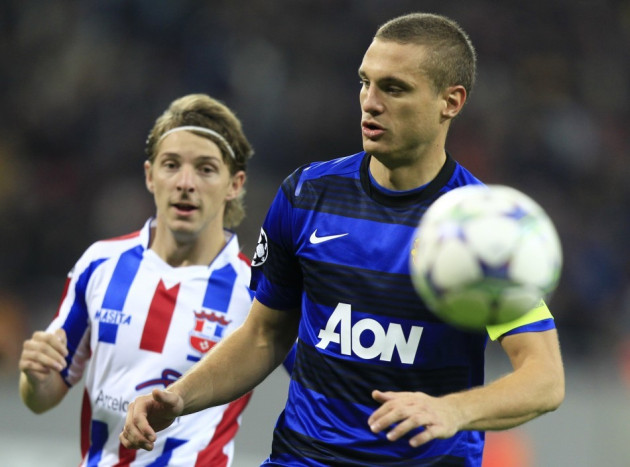 Manchester United defender Nemanja Vidic is reportedly ready to return to first team action when Spurs visit Old Trafford on 29 September. The 30 year old Serbian international was rested for the Red Devils' trip to Anfield to allow him to fully recover from a knee problem.
Vidic suffered an anterior cruciate ligament injury in December, when playing Swiss side FC Basel, away from home, in the Champions League. The problem, a serious one, ruled him out for the rest of the season. The defender only recently returned to first team action, starting with the 0-1 opening day defeat to Everton.
"He was just feeling a bit tight round about his knee and we decided just to give him a break," Ferguson explained, adding, "Hopefully he'll be alright next week."
The central defender transferred to Sir Alex Ferguson's side in 2006, arriving from Russian side Spartak Moscow for £7m. In the six years since then, he has established himself as one of the best defenders in Europe and his partnership with England international Rio Ferdinand has often been hailed as critical to the club's success.
Ferguson will have had no qualms in keeping Vidic out of the game at Liverpool, considering the shocking injury crisis surrounding the defensive half of the United squad. The club were already without Phil Jones and Chris Smalling before the trip to Anfield and both Ferdinand and Rafael suffered unspecified injuries during the game. In fact, the United Web site confirms Ferdinand played through the latter portions of the Liverpool game carrying an injury. Recurrences of the previous injury (or any injury at all) for Vidic would have been absolutely disastrous as far as Ferguson's title hopes are concerned.
United will play Newcastle United in a midweek League Cup fixture but Ferguson is unlikely to risk his star defender for such a game.
Meanwhile, in boardroom news from Old Trafford, the FA has agreed to nominate David Gill, the club's chief executive, as its candidate for the forthcoming UEFA Executive Committee membership election. The present member, Geoff Thompson, has been in the seat since 200 but steps down in May next year.