Chicharito Happy Amongst Transfer Rumours
Javier Hernandez says he's happy playing alongside some of the world's best strikers at Manchester United
Javier Hernandez says it was an honour to start alongside Wayne Rooney and Robin van Persie on Sunday when Manchester United faced Tottenham, with the striker showing no signs of discontent amongst rumours that he may be transferred away from the club in January.
Some particularly outlandish speculation was doing the rounds today, with claims circulating that Chicharito may be involved in a swap deal for the likes of Real Madrid forward Kaka.
But Sir Alex Ferguson has always remained committed to the Mexican striker, insisting in the summer that he has a big part to play in United's season, despite Danny Welbeck, Rooney and van Persie all fighting for a spot on the pitch.
And for Hernandez, the opportunity to play alongside some of the best strikers in the world is one that he sees as a positive, rather than a negative, with the United man enjoying every moment of Sunday apart from the scoreline.
"I enjoy playing with all my team-mates," he told the United website. "But starting for the first time with both Robin van Persie and Wayne Rooney... you can imagine how I felt.
"It was unbelievable because they are both world-class players.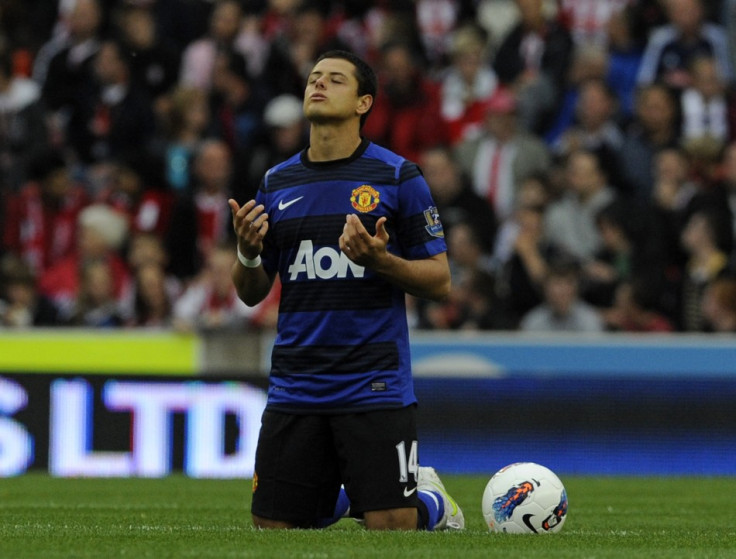 "We have a lot of really good players in the strikers' department. We can play with three, sometimes it will be one, that's the gaffer's decision. We all have to be ready when the manager picks us."
Hernandez remembers well the disappointments United have suffered in the Champions League over the last two seasons, the first losing the final to Barcelona and the second going out in the group stages after a shock loss to Basel.
But with the side coming off to a good start this time around, taking maximum points from their first two matches, Hernandez wants to keep working to take United to success this season and make up for the last.
"We have six points in the Champions League and leading the group so we're doing well," he explained.
"Now we need to take back some of the league points that we dropped at Old Trafford. We know it won't be easy but we're working very hard to try and not make the same mistakes we made against Tottenham.
"We gained a lot of confidence from the game we played in the Champions League, taking three points against a very difficult team. All the games in Europe are very tough, especially when you go away. So we have the confidence that we can go there to Newcastle and get a good result."
© Copyright IBTimes 2023. All rights reserved.