Tevez Will Help City Chase Down United, Says Joe Hart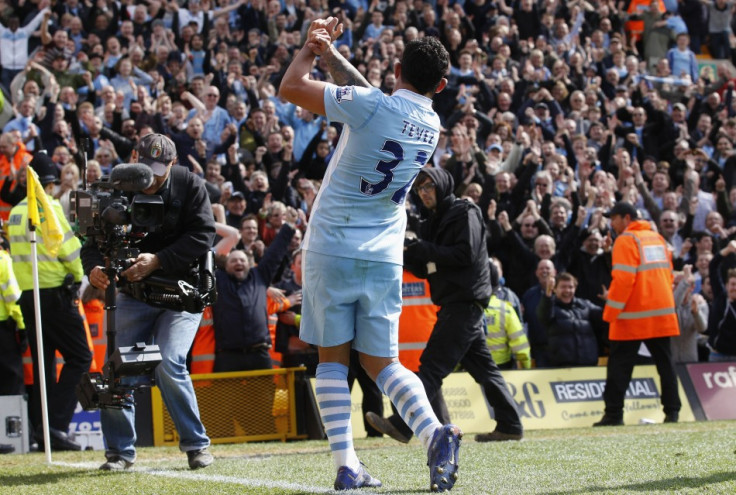 Manchester City goalkeeper Joe Hart insists controversial Argentinean striker Carlos Tevez has not caused any problems at the club and has contributed much to the positive mood of their title race.
City manager Roberto Mancini earlier told Tevez his career at the club was over, after the latter refused to come on as a substitute in the club's Champions League game against Bayern Munich. However, the Argentinean has since been recalled and proven to be a key part of the club's late-season title charge.
Tevez returned to the starting line-up and scored a hat-trick at Norwich last weekend to help City cut Manchester United's lead to five points and Hart feels the former skipper is giving the club a big lift, despite his long-term absence.
"We have been a bit dry on goals recently, so that fresh Carlos input has been awesome. You can say what you want about Carlos but when he plays, he plays to win and he plays for his team-mates. You don't get any attitude," The Sun quoted Hart as saying.
"On the field he's going to give you all he's got, try to score goals. It's great to have him. We have that goal of trying to win the league and Carlos has bought into that. He has not come in and tried to make any big statements. We have just all moved on," the 24 year old added.
After the defeat at Arsenal two weeks back, Mancini stated the fight for the title was over but with the Manchester derby at the Etihad still to come, Hart refuses to throw in the towel.
"When teams have things to play for you can never predict what might happen. The season is alive. I don't think the boss means that the season is over. I think he is just trying to play it down a little bit and let us get on with what we need to do. There is no way any of us would give up until it is mathematically impossible," Hart said.
The England international feels that if City keep their focus to win their last four matches and end up with 89 points, it could make things difficult for their rivals.
"In the same way that United never gave up chasing us, we'll never give up either. If we can get 89 points it would take some beating. We can only do what we can do now and we'll see where that takes us. The manager's message is keep playing, keep winning. Our supporters pay a lot of money to come and see us and we owe them results," the keeper added.
City travel to Wolves and United host Everton on Sunday, before the two teams meet at the Etihad for the derby match on 30 April, in a match that can well be the title decider.
© Copyright IBTimes 2023. All rights reserved.