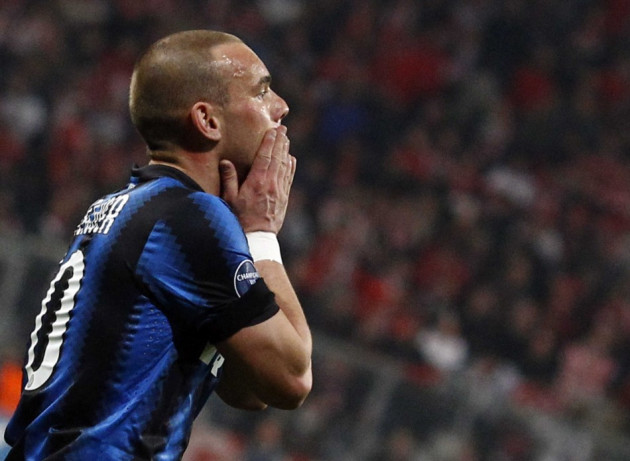 Manchester United are expected to up their pursuit of Inter Milan midfielder Wesley Sneijder after Sir Alex Ferguson conceded defeat in the battle for Samir Nasri.
Reports this morning have claimed United will offer £35m for Sneijder, who could earn almost £250,000-a-week if he arrives. However, the Dutch international has warned that he will only leave Milan if the club decide to sell him, The Guardian reports.
"I would like to remain," Sneijder said. "I have marvellous team-mates. My wife Yolanthe and I love Inter, the Italian fans and Italy."
But the former Real Madrid player admitted his future is unresolved, saying, "If Inter decide to sell me, I'll go where they tell me to go. My wife and I are happy in Milan and I would miss the city and Inter. But anything can happen in football."
Ferguson is a keen admirer of the 27-year-old and believes the Dutchman could bring "a level of passing and vision" to United's midfield, according to The Telegraph.
"It is impossible to get another Scholes," Ferguson told the paper. "If we can get another layer on the same lines in terms of his passing and vision, then we'd have to do something."
The new Inter coach, Gian Piero Gasperini, revealed that he is keen to hold on to a player who scored four goals in 25 league appearances last season.
"His approach has been more than positive. He is here and he wants to remain with us."
Meanwhile, Ferguson has admitted that Arsenal midfielder Samir Nasri is unlikely to join United this summer, with both Manchester City and Real Madrid interested in the French international.
Ferguson said, "there is nothing we can add to that on Nasri. I don't think he's coming to United, that's all I can tell you.
"Arsène's the manager and it's his decision, but if he stands by that decision, it's a brave one.
"I don't know if Arsenal's board of directors will enjoy that one, but it's possible. I think he [Nasri] has agreed to go somewhere else, but maybe having to stay at Arsenal is a possibility as well."