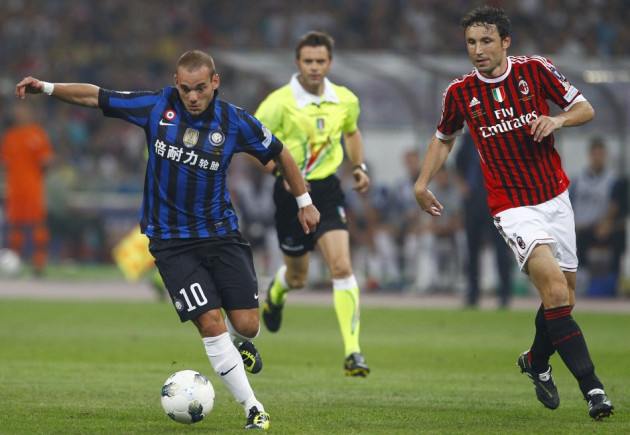 Wesley Sneijder is poised to complete his move to Manchester United in the next 48 hours, according to reports on Wednesday morning.
The Inter Milan midfielder will hold formal negotiations with United representatives in London on Thursday, after he hinted this week that informal talks had already taken place.
Questioned on his potential move to Old Trafford, Sneijder told a Dutch website:
"There have been unofficial talks, there have been contacts, but I have contacts with everybody."
Sneijder has emerged as manager Sir Alex Ferguson's preferred midfield replacement for the retired Paul Scholes and reports this morning suggest a fee in the region of £32m has been agreed with the Italian club.
The 27-year-old playmaker refused to rule out staying in Italy but hinted that Inter would find it difficult to turn down a substantial offer.
"The situation is that I am now an Inter player, and chances are that I will still be that come 31 Aug. There is also a chance I could leave.
"That isn't really down to me but the club. I think Inter have been very clear: if a good offer comes in, they have to let me go.
"They don't want to lose me but there is a chance they will let me go. If something crosses my path, I have enough time to make my decision."
Meanwhile, Roy Keane has backed United to claim their 20th Premier League title this season.
The former Irish international dismissed the threat of "bickering" Chelsea, "lightweight" Arsenal and "nowhere near" Liverpool, saying Manchester City are the only realistic challengers to the defending champions.
"Even Sir Alex Ferguson said the other day the league's getting tougher. But I don't think so," Keane told The Sun.
"If United are really at it, which they will be, they'll win it comfortably.
"Even last year when united were slipping up, no team was strong enough to take advantage of it."