Nemanja Vidic has admitted that competition at Manchester United for the centre-back position will be rife next season, with the skipper continuing to recover from injury and raring to get back on the pitch.
Vidic's season was cut short last December when the star suffered from knee ligament damage in the Red Devils' defeat to Basel in the Champions League group stages.
The injury came as a huge blow to the United squad, but the 30 year old has been determined to get back to his best and is looking forward to the season ahead, despite the many challenges it will bring.
When asked if he faced competition to win his spot on the side back, Vidic told the United website: "Definitely. Jonny [Evans] has had a great year.
"I think Chris [Smalling] as well, before he got injured, is looking for that position as central defender. Rio [Ferdinand] is fit after a long time and was fit for so many games so we now have really big competition next year.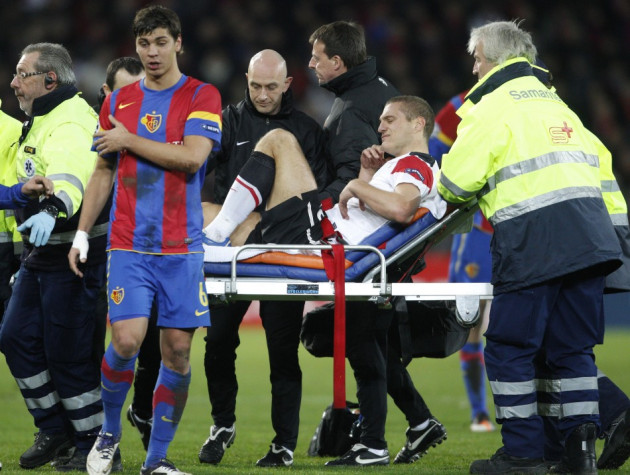 "I don't mind that. I don't think any player minds that. It makes you train harder, play better and obviously we have so many games during the season that we need good players."
Vidic found United's loss of the title to Manchester City all the more frustrating from the stands, but the Serbia international believes that the side will take a great deal of positives from the season as they prepare for the next.
"We cannot say we did well because we didn't win a trophy obviously," he explained. "But we have to remember a few players left, a few young players had to get used to playing every week for a club like Manchester United and we always have high expectations.
"The young players did well and it was great experience for them this season. I think they managed really well but didn't have the luck in the end.
"I definitely believe we're going to be better next year. We want the trophy back. You have to remember we've had so much success in the past few years but generations have changed with new players.
"The club is looking to the future. We have to take some positives from this year. I believe next year will be a good year for the club and I believe we can win trophies again."
For United, the upcoming summer will no doubt be a busy one, with players returning from injury and Sir Alex Ferguson looking likely to spend big to square up to City in another title race.