Borussia Dortmund manager Jurgen Klopp says Shinji Kagawa's fringe role at Manchester United disturbs him. The Japan international moved to Old Trafford last summer but has failed to establish himself in his favoured central attacking role.
Instead, the 24-year-old has had to be content with a wide role and only 20 appearances, with six goals and three assists from those games. This is in stark contrast to his return from his time at the Westfalenstadion between 2010 and 2012, when he had 21 goals and 10 assists from 49 Bundesliga appearances.
Klopp insists the Japanese star deserves more game time and a central role at United.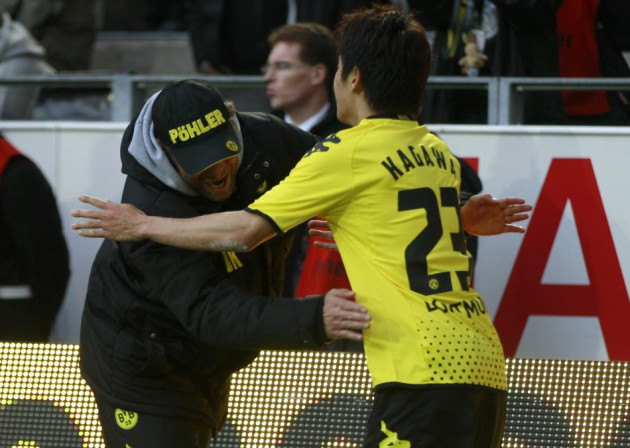 "Shinji Kagawa is one of the best players in the world and he now plays 20 minutes at Manchester United, on the left wing. My heart breaks. Really, I have tears in my eyes. Central midfield is Shinji's best role. He's an offensive midfielder with one of the best noses for goal I ever saw. But for most Japanese people it means more to play for Man United than Dortmund," the Dortmund boss pointed out.
"We cried for 20 minutes in each others' arms when he left. One year before that Nuri Sahin went because Real Madrid is the biggest club in the world. If players are patient enough, we can develop the team into one of the biggest in the world," Klopp stressed.
Sahin is presently back at Dortmund, after managing just four La Liga appearances for Madrid last year and a disappointing loan spell at Liverpool during the first half of this season.
Dortmund will face arch-rivals Bayern Munich in an all-German Champions League final at Wembley on Saturday. The Bavarians, who beat Barcelona 7-0, on aggregate, in the semi final, will enter the match as favourites but Klopp's side are expected to have the support of most neutrals, mainly due to their eye-catching style of play and underdog status.
"We are a club, not a company. But it depends on which kind of story the neutral fan wants to hear. If he respects the story of Bayern, and how much they have won since the 1970s, he can support them. But if he wants the new story, the special story, it must be Dortmund. I think, in this moment in the football world, you have to be on our side," the 45-year-old added.