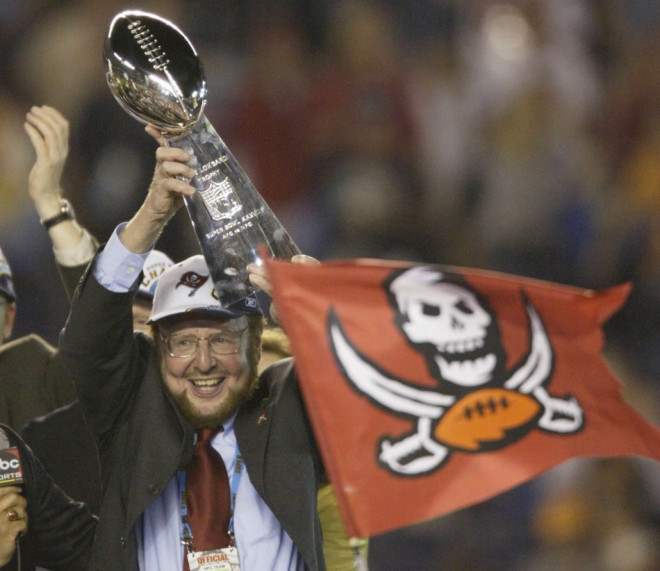 Manchester United's American owner Malcolm Glazer has died aged 86.
Glazer, a Florida-based billionaire who purchased United in 2005, was believed to have been battling illness for some time. He leaves behind a wife, six children and 14 grandchildren.
His passing was greeted with a short statement from Old Trafford, which read: "the thoughts of everyone at Manchester United are with his family tonight."
Glazer's sons Joel, Avi and Bryan control day-to-day affairs at United and it is believed that today's news will not affect the running of the club.
A self-made man who also controlled American football team the Tampa Bay Buccaneers, Glazer himself never actually set foot inside Old Trafford - yet he was one of the most controversial owners in British football.
He and his family were the subject of fierce protests when they bought United in a leveraged buyout in 2005, and his sons were even forced to take a police escort when they attended Old Trafford shortly after their takeover.
Although United continued to enjoy success under Sir Alex Ferguson, winning five Premier League titles as well as the Champions League in 2008, many fans criticised their American proprietors for loading debt onto the club.
Supporters claimed that huge sums of money which might otherwise have been spent on new players were channelled into servicing the debt, jeopardising United's pre-eminence in British football and denying the fans the big-name signings they craved.
A group of fans even broke away from United and set up a rival club, FC United of Manchester, in protest at the Glazer takeover.
However Ferguson was always a staunch defender of the Glazer regime, claiming they gave him everything he needed without meddling in on-pitch matters or destabilising the team.
Fans' attitudes to Glazer have generally softened in recent years, as United's debt has steadily reduced while the club have paid out huge transfer fees for players such as Robin van Persie and Juan Mata, and sanctioned a vast wage increase for Wayne Rooney.