Manchester United full-back Raphael da Silva wants to make history as one of the few players that can say they won an Olympic gold medal for Brazil.
The South Americans may be one of the most decorated sides in world football with five World Cup victories and eight Copa America titles to their name, but they have never managed to win gold at the Olympics.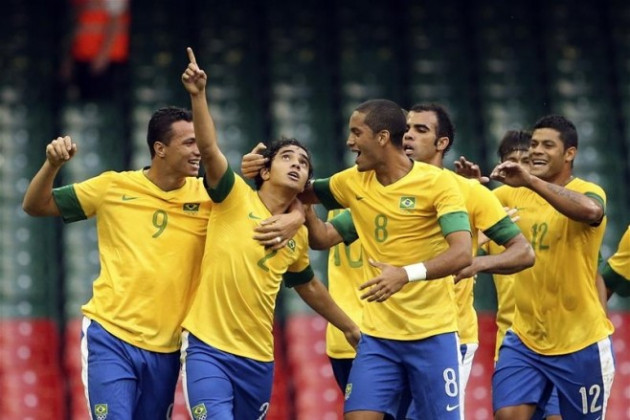 Twice they have come close but have had to settle for silver when in 1984 a side containing future World Cup winner Dunga lost to France, while four years later it was legendary striker Romario that was unable to prevent them from beating the Soviet Union in the final.
Bronze was won at Atlanta 96 and again in Beijing 2009 which featured Manchester United midfielder Anderson.
Now Raphael is hoping he can eclipse these achievements by helping Brazil win the gold at Wembley on Saturday afternoon when they place a Mexico side which features Tottenham midfielder Giovani dos Santos who has scored three goals in his five appearances.
"It's a massive game," Raphael told PA Sport, as reported on the Manchester United website. "We've never won this title so we'll be doing everything we can to win it for Brazil.
"This is an important tournament for Brazil. We have secured a medal, now we need to work hard to beat Mexico. It would be amazing. Everyone back home is supporting us to try and get this medal.
"There is always a lot of pressure playing for Brazil and we have never won this medal. It is the only one we have never had, so we'll do everything we can to win."
The right-back is also hopeful that the form he has displayed during the Olympic tournament may help him seal a place in the Brazil side for the World Cup in 2014.
"Maybe the Brazil coach will think about me for the 2014 World Cup. Also, maybe the people in England will think about me differently if we win the tournament," added Raphael. "It is always good to win medals. This tournament is good for my career."