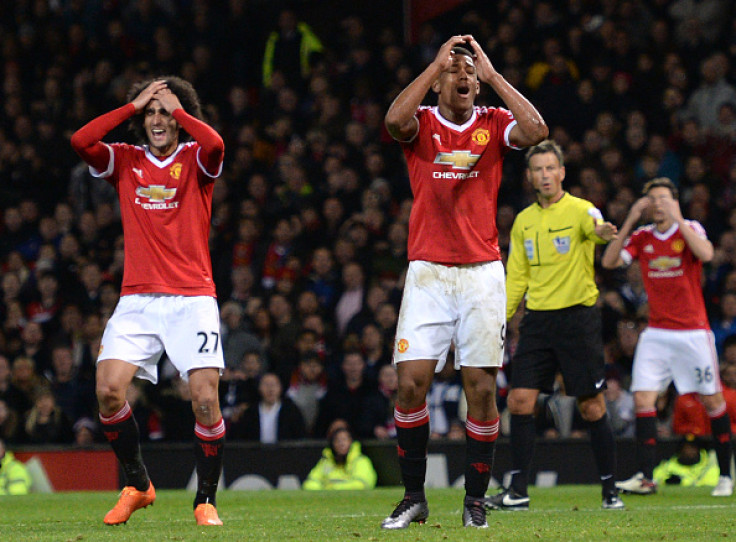 Manchester United legend Rio Ferdinand has labelled his former club's demotion to the Europa League as an 'embarrassment' and believes that the squad needs a major overhaul. The Red Devils lost to Wolfsburg 3-2 on 8 December leaving them in third place behind the Bundesliga club and PSV Eindhoven, who beat CSKA Moscow in Group B.
Louis van Gaal has admitted disappointment following the loss, while indicating that his team did everything possible to try and win the game. They went ahead through Anthony Martial in the 10th minute, but were immediately pegged back through goals from Brazilian defender Naldo and Vieirainho. United's defence left a lot to be desired after they allowed the Bundesliga team to score the winner immediately after they had been handed a lifeline through an own goal from Josuha Guilavogui.
It is not the first time that United have dropped out in the group stages of the competition — they suffered the same fate under Sir Alex Ferguson during the 2011/12 season. They were eventually knocked out in the last 16 of the Europa League by eventual finalists Athletic Bilbao. Ferdinand, who was in the squad that season, believes it is embarrassing to be knocked out and demoted to the Europa League.
"It's embarrassing, I was in a squad that went in the Europa League, it's an embarrassment," the former United defender said, as quoted by Goal.com
"You don't want to come out of your house, you don't want to walk around Manchester, people looking at you and thinking you're not good enough, questioning you as an individual, as a team who didn't get through the group stages that you should have, on paper."
The former Old Trafford star also feels the squad needs a major overhaul despite the manager spending over £250m since his arrival. The defender cited a lack of leaders in the squad, which has struggled to break down teams this season.
"If you strip it back and look at this squad, this squad needs a real hard looking at."
"There's no pace in the squad, no power, there doesn't seem to be great resilience at times, the leaders you look for in situations like this, at the moment it looks like people are looking around at each other rather than being the man to stand up and saying 'I'm going to drag you through the forces'," Ferdinand explained.
"Normally when you look at the top teams there's not only one, there's two, three four in those types of teams, and I don't see that at the moment."