Ryan Giggs is aiming to make a statement in tonight's derby between Manchester United and Manchester City, with the stalwart hoping to show that his side are deserving of their record 20th title.
The Red Devils are currently three points ahead of their cross-town rivals in the Premier League table, but City have a bigger goal difference than their counterparts.
With that in mind, the Citizens can in fact topple United from top spot if they win tonight, but Giggs is aiming to stop that from happening at all costs.
"We're looking forward to the game more than anything," Giggs told the official United website.
"It's been a long week building up to it and as a player you just want to get out onto that pitch and perform. We just can't wait for Monday night to come.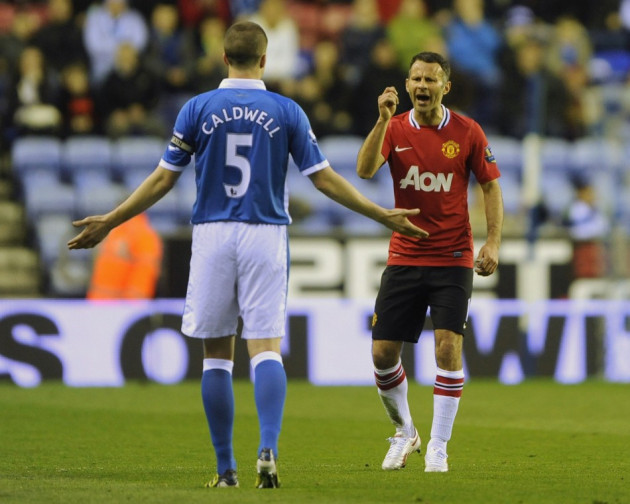 "We're under no illusions that it's a tough game but it'll be a tough game for City as well. They will be looking at it and fancying themselves to win just like ourselves because they're a good team and they're at home. But we're Man United, we're the champions and we'll be trying to put a statement out that shows we deserve to win this league."
United will have the upper hand in the match in terms of experience with title deciders, and Giggs hopes that the squad will be prepared for the pressure as they preapre for tonight.
"We realise it's a big game but as a United player you're used to that," he explained. "You've got to block out the hype and what's being said - that's been going on all through the season.
"One day people say City are going to win the title and then it's United. We're used to that. I must admit it's hard to block it out, but you've got to try and be professional and not let emotions get the better of you. Your job is to train well and be ready to go out there and perform when Monday comes."
A draw for United will be enough to keep their much needed advantage as the English giants go into their final fixtures against Swansea and Sunderland.
But the club will be aiming to win one of their biggest local derbies in the history of the club, and should they do so, it will be the ultimate revenge after City defeated United 6-1 in their first meeting of the season at Old Trafford.