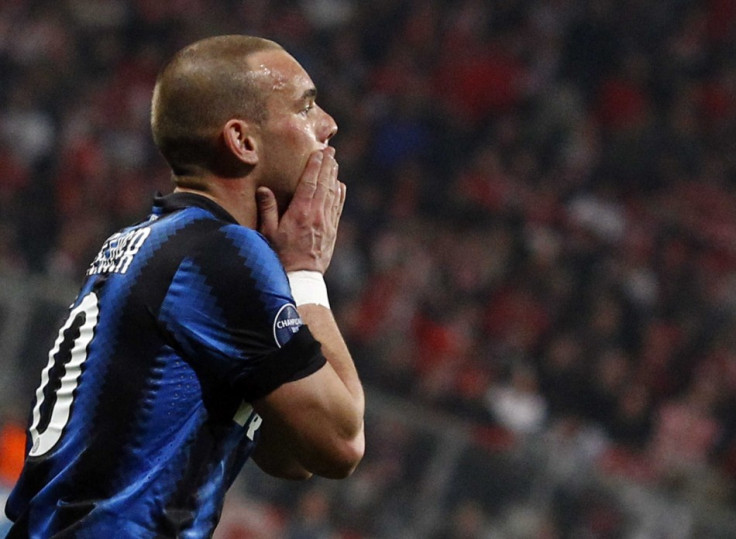 All the latest transfer rumours from Serie A as Juventus look to tie up a deal for Villarreal striker Giuseppe Rossi. Manchester United target Wesley Sneijder could still be a target for Manchester United after his father revealed the club are still interested but AC Milan and Arsenal target Marek Hamsik has decided to stay at Napoli.
The Premier League may have ignored Giuseppe Rossi but it is reported by the Express that Juventus are on the brink of capturing the Italian. The striker who scored 32 goals in all competitions last season is said to be ready to finalise a £30m deal to join Juventus by the end of this week. The player, who attracted attention from Barcelona earlier in the summer, is said to be keen to make a return to Italy after leaving Parma for Manchester United in 2004.
The Villarreal striker's representatives are confident that a deal will be done in the coming days. Speaking to Corriere dello Sport, Rossi's agent said: 'There are some things to finalise, so we will have to meet again, but negotiations are at an advanced stage. Talks are aided by the good common sense of the clubs doing the buying and the selling.' He continued: 'I am confident, even if it's not right to say too much. It's never a good idea to get ahead of yourself when dealing with such an important player. We will all certainly need a little patience.'
The long running transfer saga between Inter Milan and Manchester United looks set to continue into this week after Wesley Sneijder's agent claims that Manchester United are interested in his son. Wesley Sneijder's father's comments come after Manchester United manager Sir Alex Ferguson dismissed reports linking United with the Dutchman. However, Sneijder's father, Barry, says United do want to sign the Netherlands international. He said: 'We are aware of the interest from Manchester United for Wesley," Sneijder senior said in the Mail on Sunday. He continued: 'We absolutely want to make sure we are treating Inter with respect. Wesley is enjoying his life in Milan and the club gave him a fantastic new contract last year.'
Ac Milan and Arsenal have been dealt a blow after Napoli manager Walter Mazzarri revealed Marek Hamsik will be staying in Naples this summer. Both AC Milan and Arsenal have been linked with the Slovakian and it was thought Hamsik wanted a move but Mazzarri has claimed Hamsik is happy at Napoli. Mazzarri told Gazzetta dello Sport: 'Marek is happy to work with me and he is very motivated. He is happy to remain here. I have spoken to him and from what I know, in the end he will not leave.'
Napoli is reluctant to allow the 23 year old to leave the club and have valued the Slovakian international at £100m. Arsenal were thought to want Hamsik as a replacement for Cesc Fabregas if, as is expected, Fabregas moves to the Nou Camp this summer.