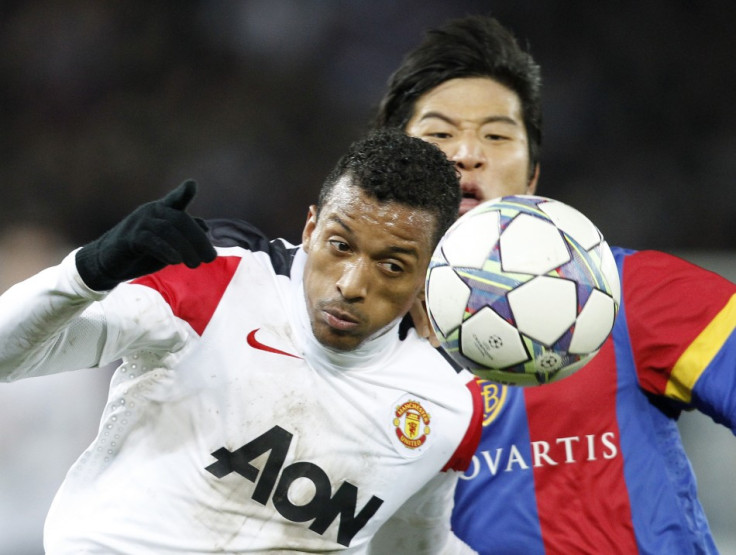 Manchester United winger Nani admits he 'wept like a kid' following their shock elimination for the Champions League.
The Portuguese winger suggests Manchester United's chastening defeat to FC Basel was one of the worst experiences during his four years at Old Trafford, intimating it was as a low a moment as last season's Champions League final defeat to Barcelona.
Nani revealed that all of his Manchester United teammates were simply stunned in the aftermath of their 2-1 loss a fortnight ago. The former Sporting Lisbon prodigy concedes the dressing room was "like a funeral" and he broke down in tears.
"I wept like a kid in the dressing room in Basel," The Manchester United winger told the Daily Star. "All of my team-mates were also affected because nobody could quite believe that we had been knocked out at just the group stage. It was like hell in there.
"This defeat and the loss at Wembley in the final last May have been the worst two days in my Manchester United career.
"I am so sad about what has happened. It is almost unbelievable. The dressing room in Basel was like a funeral."
He added: "This squad is one which is ready to win big titles, so to go out like this is a complete nightmare.
"We know we are better than some of the other teams, so it is hard to be able to work out exactly how this has happened.
Some seasoned experts have suggested Manchester United were too complacent in their less than daunting Champions League group, most notably when they surrendered a two goal advantage to end up drawing 3-3 against Basel at Old Trafford. Nani refutes that intimating Sir Alex Ferguson's side always respect their opponents regardless of their perceived status in world football.
"I do not think that we were too arrogant or complacent. Manchester United are a team which always respects their opponents." Nani continued.
"We are damaged but this is the moment for us to soar, and try and bounce back."
Manchester United have won back-to-back league games following their exit from Europe's premier competition, against Wolves and QPR, and Nani suggests defending the title remains their main objective this season.
"Now the Premier League is our main objective. It is necessary to be champions. But the boss is a man who knows how to pick his players up and will help us get back on track."