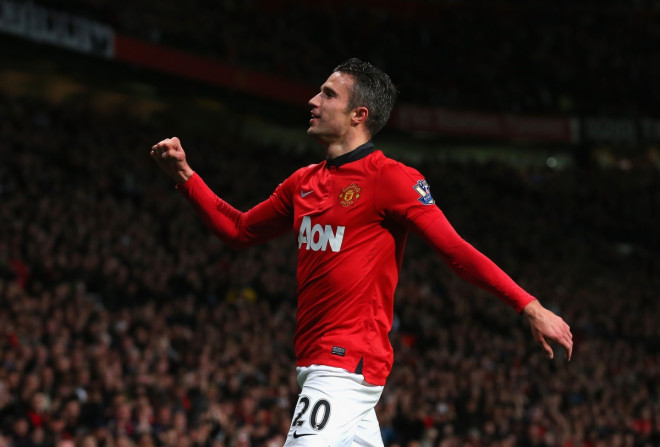 Manchester United striker Robin van Persie has spoken of the dilemma he faced leaving Arsenal in 2012 but admits he made the correct decision moving to Old Trafford.
Van Persie's failure to agree a contract extension saw him join United two years ago. In his first season he won the Premier League title and finished as top scorer.
The Netherlands captain enjoyed eight years at Arsenal but, despite claiming the PFA Players' Player of the Year award in his final season, won just one major honour in the form of the FA Cup in 2005. Nevertheless, van Persie's connection with the club made moving to United a tough decision.
"It was a dilemma," he told quarterly football journal The Blizzard. "I loved that club. The fantastic stadium. The public. The atmosphere. I am a real Gunner and will always be one. A part of me was hurt. But I am a winner. I always want to win and it was time to win some prizes with a club, some titles.
"I never would have gone for the money, but wanted the change to take my career a bit further. And it turned out to be the right decision. I won the title with Manchester United right away. And I must also say: Manchester United is a warm club.
"I feel happy there. It was the first time in my life that I became champion of a country. A dream. But the most beautiful thing about the title was the path towards the championship. It was like being on a train. It was fabulous."
'I'd walk on fire for van Gaal'
After an injury-maligned campaign at United, van Persie leads Netherlands into the World Cup this summer under the guidance of new club manager Louis van Gaal.
Having been handed a central role in the Dutch attack and given the armband for the tournament, van Persie is clearly a favourite of van Gaal, who could name the 30-year-old as his United skipper before the start of next season.
And van Persie has spoken of his admiration of van Gaal, to whom he owes success during his recent football career.
"We have a great team," he added. "A good mix of experience, skill and young talent. For a lot of us it will be the last chance, the last cry of a generation. Players like me. Like Wesley Sneijder, Raphaël van der Vaart and others.
"Personally, I'm in my best period. Van Gaal gave me all the confidence I can ask for. He made me the main striker, my favourite position. At last. He made me captain. I owe him something. So I will be as sharp as a knife in Brazil.
"I will walk on fire for him if I have to. Like the rest of the team. We have a lot of options. Our coach has a lot of choices over there. I think we are going to do something special: like in 2010 but hopefully this time winning the final."