Christian Eriksen says he turned down Manchester City because he wanted to be guaranteed immediate playing time, with the Manchester United playmaker target continuing to be connected with a move to the Premier League.
Eriksen has starred for Ajax since moving from the youth side into the senior team in 2010, and at just 20 years of age he has shown up players and clubs across Holland and Europe.
The playmaker has constantly been linked with a move to Manchester United, with Sir Alex Ferguson admitting at the start of the year that he has been impressed by Eriksen's performances on numerous occasions. And the star says that playing time will be his priority as he considers his future.
"Money has never been a motivation. I have chosen football before that every time and I still do that," he told the Guardian. "I'm addicted to football. When I get outside, I just want to stay on the training pitch."
The Denmark international was widely reported to havebeen offered an opportunity to play for City in the 2011 summer, but he turned it down, with the star reasoning: "It was the feeling to get to a big club where they buy some new players every six months.
"Then, probably, if you didn't do well in the beginning, you would go out on loan. I wouldn't like that. For me, it was just about wanting to play. At that point I was just 19 years old, so I had no hurry."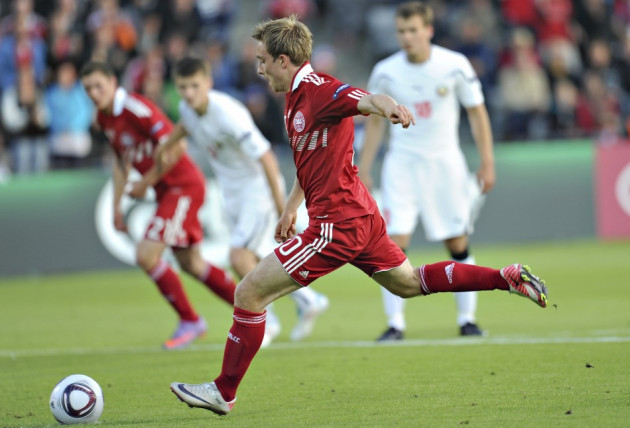 For Eriksen, it is a top priority to be able to feature on the pitch as much as possible for whichever team he plays at. And with that in mind, he insists he won't rush to make a decision over his future and could well stay at Ajax.
"I'm going to see what opportunities there are but I'm still happy here and I don't have any thoughts that I have to leave," he explained.
The youngster was quick to sing the praises of his current side, who put up a gallant fight against United in the Europa League at the start of the year and were unfortunate to be part of a group of death in the Champions League the season after.
"But of course we have won two times the championship and we've played a lot in the Champions League," he said. "When I came everybody was saying: 'We have to be champions, we have to play in the Champions League.'
"Now we have played there for two years and everybody knows how it is. But still, for me, as a young player, you have to play every week and you have to be better and better. That's what counts."