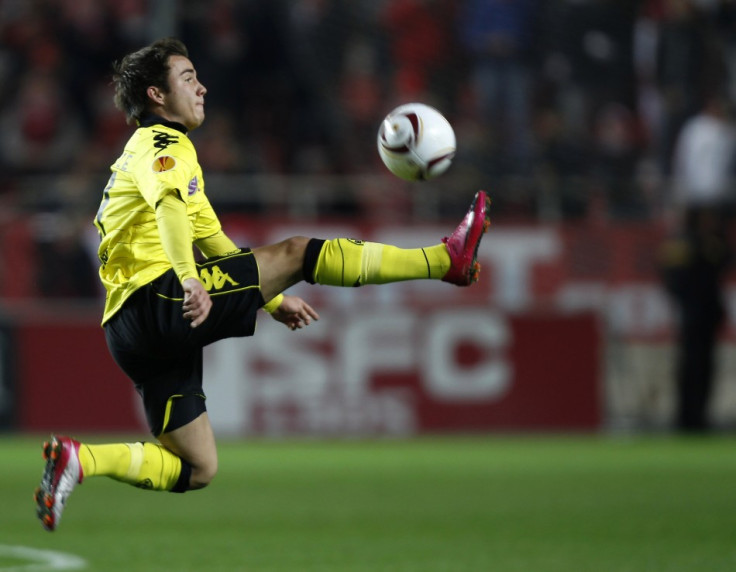 Mario Gotze is the subject of a great deal of transfer speculation, and Manchester United were amongst a host of clubs taking notice of the youngster as he scored a goal to take Borussia Dortmund past German giants Bayern Munich in the Bundesliga at the weekend.
Gotze is a name that came up a lot in the summer transfer window, but Dortmund were insistent that they didn't want to sell their prized gem as he continues to show talent that is far beyond his tender age of 19.
Manchester United are one of a host of clubs interested in Gotze, and with Ferguson on the lookout for a midfielder to replace the retired Paul Scholes, the Germany international could be just the marquee transfer coup that the club missed out on over the summer with Wesley Sneijder.
While Sneijder and Inter Milan both claimed that talks had taken place over the summer for a possible to deal to move to United, Sir Alex Ferguson insisted that there was never a real possibility that the playmaker would head to Old Trafford.
Ferguson also argued that while Scholes had left the squad, a replacement midfielder wasn't necessarily the direction that United would take to make up for his absence, with the manager planning to change the side's style of play to cope without him.
But the Red Devils have clearly not fully recovered from the loss of Scholes, and after they lost 6-1 to Manchester City in late October, the club have been connected to a large range of midfielders who might be able to give United the firepower they need to challenge their cross-town rivals for trophies this season.
Sneijder has again been connected to the club for a January swoop, and with Inter currently struggling in the Serie A table, the Dutchman is reportedly becoming increasingly unhappy with his current home. But a £35 million fee, and wages of up to £200,000 a week, make him a purchase that would be almost impossible for a even big club like United to afford.
Goetze is a much cheaper option, with the playmaker set to cost the club £20 million at least. Though he has expressed an intention to stay in the Bundesliga, with United's stance in both England and Europe, any player would be hard pressed to say no to Sir Alex Ferguson if he really wants to bring them on board at Old Trafford.