Midfield Star Reaffirms Barcelona Commitment After Manchester United Pursuit
Cesc Fabregas says he is happy at Barcelona and nothing will tempt him into an exit from the club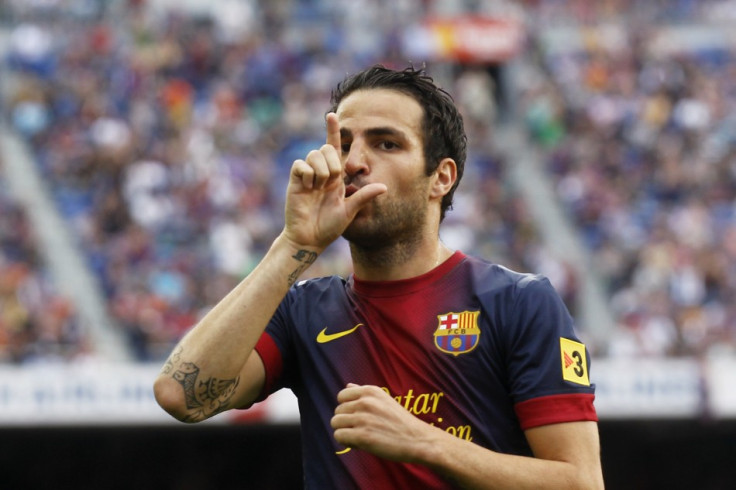 Cesc Fabregas insists he wouldn't have agreed to move to Manchester United even if the side had offered to triple his wages from Barcelona, with the midfielder claiming he never wanted to leave amongst the media circus surrounding his future.
Fabregas was the subject of two bids from United in the transfer window which came across as curious considering the Spain international had constantly claimed he was totally committed to Barcelona.
Reports circulated that he might be interested in a move back to England after failing to become a regular in Tito Vilanova's plans, but the 27 year old argues this was never the case.
"I would not have moved for double the money. Nor triple. No," he told the Sun. "I've paid out of my own pocket a lot of money to play for Barca, I earned more at Arsenal.
"There are dreams and this was mine since I was a child. United never spoke with me. Obviously when a club wants you they have to do it with the club and they don't necessarily have to speak to the player.
"I always said that I hadn't spoken to anyone -- and the only thing in my head was to be a success at Barcelona.
"The truth is United made official offers and it became known in public. I know there are other places where they give you more money. But at no time did I think of leaving."
United's failed pursuit of Fabregas was the beginning of a woeful transfer window for the club in which they failed to land any of their chosen targets apart from Everton midfielder Marouane Fellaini.
Barcelona constantly commented that Fabregas was not for sale, particularly after the club had to part with Thiago Alcantara, and he has so far been the centrepoint of incoming manager Gerardo Martino's plans this season.
© Copyright IBTimes 2023. All rights reserved.