Barcelona defender Gerrard Pique has warned Manchester United that they are wasting their time bidding for Cesc Fabregas as the Spaniard is going nowhere this summer. United made a second bid for Fabregas, an increase on their first offer, which is being reported to have been rejected by the Catalans.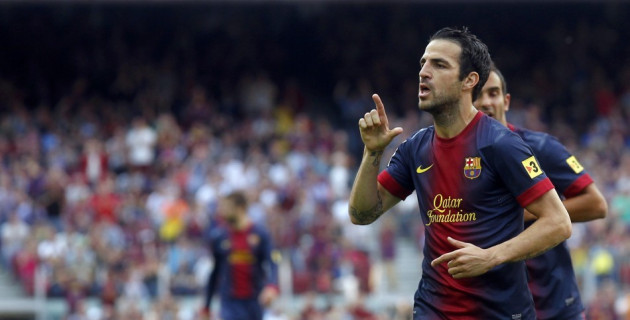 "It took a long time for Cesc to get his dream move back home and he won't give it up. This is home, it is where his family is, and he is playing with his closest friends. He has told us he is happy and that he intends to stay with Barcelona," Pique said.
Meanwhile David Moyes confirmed United's second bid for the 26-year-old and insisted that the Red Devils are in the market for top players who will improve their squad.
"My understanding is that Ed's had a response and he's spoken with them [Barcelona]. I think we made a second offer but Ed is dealing with that rather than me, personally. When you're interested in good players you want to give it every opportunity to materialise and I'll do that. I hope things can continue and move forward," Moyes said.
"There isn't any real update I can give you, though. I think everybody had thought this could be the summer where transfers would happen later in the month. You have to remember I only started the job on 1 July. So, in truth, I've only been in the job for three weeks at this present time," he added.
The Red Devils are being reported to be planning a third and final bid for the player in the range of £35m. Should Barcelona reject this offer Moyes is likely to move on other targets as the end of the transfer window looms closer. United are ready to offer him a package in the range of £200,000 a week in order to persuade him to move to Old Trafford but will face competition from his former club Arsenal who have first refusal on the Spaniard.
"This is the final push. are only willing to give it one more go, and know that if this fails they have other options," a source told Goal.com.