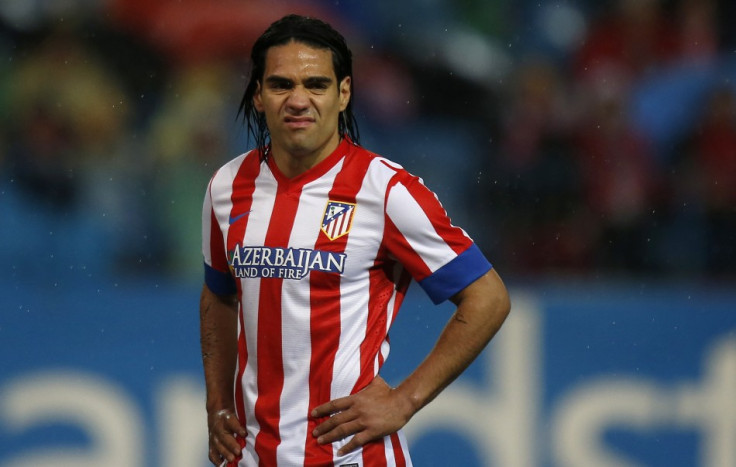 Sir Alex Ferguson has dismissed rumours surrounding a possible deal for Atletico Madrid striker Radamel Falcao, insisting he is happy with the current strikers at Manchester United as the summer transfer window edges closer.
Falcao was heavily linked with a move to United last week, while Manchester City and Chelsea also continue to be mentioned with an interest in the La Liga star, with reports originating from Marca claiming that he may have already agreed a deal with the Premier League champions elect.
But the Scot insisted that was not the case, laughing off suggestions he would be signing yet another star striker after bringing Robin van Persie into the frame last summer.
"Do you honestly believe that?" he said, according to the official United website. "Really? It does amaze me that you come up with that one."
Reasons behind the rumours of a new striker coming into the fold have been linked with Wayne Rooney's sub-par season for United. The England international was strongly linked with an exit after being dropped from the starting line-up in the Champions League last 16 against Real Madrid, but both Ferguson and Rooney denied it.
And Ferguson says that with three of his strikers on form in front of goal, including Rooney, each have contributed to putting United in their table-topping position, 15 points clear of champions City at the Premier League summit as the season comes to a head.
"I thought he was brilliant [against Stoke at the weekend]," Ferguson explained. "I think he was possibly needing a different role in terms of getting his confidence back.
"He's been getting a little bit of criticism, not seriously so, but a few doubters. He's a fantastic player and our job is to get his confidence and form back. I thought a spell in midfield today would do him the world of good and, of course, it worked for us.
"With Chicharito, Robin van Persie and Wayne on the pitch, they have got 55 goals between them and that counted for me," he added. "One of them is going to score for you and that was important.
"I also thought a spell in midfield for a while could be good for Wayne."
Rooney is no doubt an important part of the squad, and if Ferguson is also hoping to keep hold of Danny Welbeck and Javier Hernandez, it's hard to see a place at United for Falcao if he's hoping to get maximum game time when he moves away from Atletico.