Manchester United Dealt Blow In French Striker Pursuit
Karim Benzema says he's happy at Real Madrid, and isn't concerned with incoming competition up front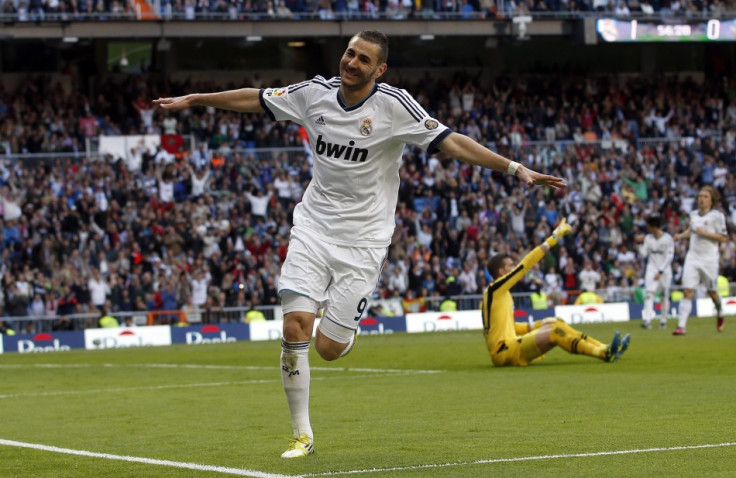 Karim Benzema insists he is happy at Real Madrid, and despite interest from Manchester United, he wants to stay in the Spanish capital and fight for his place amongst the incoming strikers.
Madrid are believed to be in the market for Gareth Bale as well as Liverpool's wantaway striker Luis Suarez. If the pair did make the move to Spain, it would no doubt create a huge amount of competition up front, particularly with their price believed to be a combined £130m.
Benzema himself has had a below-par season compared to previous ones, with Los Blancos going trophyless as he scored 16 goals across all competitions.
But the France international isn't worried about the possibility of having to deal with the extra competition next season, insisting he's happy to stay and work hard under Jose Mourinho's eventual replacement.
"No, I'm not worried at all," he told Marca, when asked of the impending signings taking away his game time. "Of course I'm staying. I'm happy at Real Madrid and I'm not going to leave.
"I'm eager to win titles, but I think we all need to disconnect a bit."
Real Madrid had a disappointing season under Mourinho, and Benzema was believed to be considering a move to United as a possible replacement for the outgoing Wayne Rooney.
A changeover in managers at Old Trafford will no doubt bring uncertainty over whether David Moyes targets similar players to Sir Alex Ferguson, but after 2012 summer signing Robin van Persie took the club from being close runners up one season to winning the trophy convincingly with games to spare the next, it's clear that consistent goalscorers are a big help in winning silverware.
While van Persie was strong for United last season, Danny Welbeck and Wayne Rooney both disappointed in front of goal, and while Ferguson insisted that the former would continue to develop, the latter has handed in a second transfer request in three years at the club.
If Rooney does indeed leave, United would need a big-name replacement, but it looks like for now at least they won't be able to pursue Benzema, who is happy to stay where he is.
© Copyright IBTimes 2023. All rights reserved.