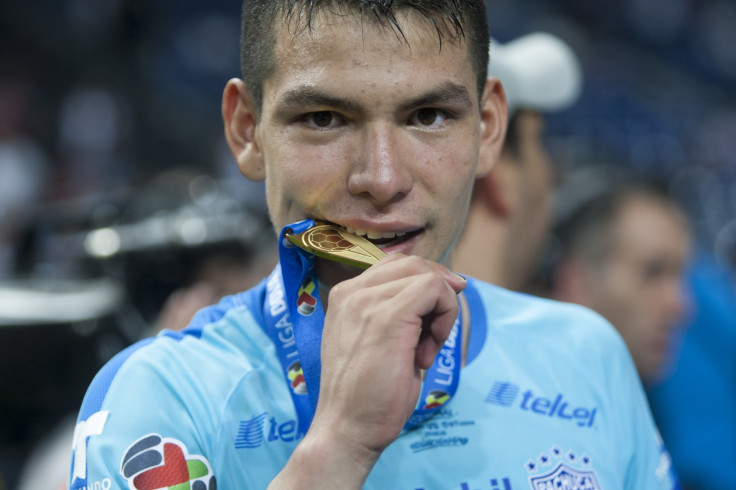 Pachuca president Jesus Martinez has denied reports that the Mexican club have agreed the sale of Hirving Lozano to Manchester United. The club chief says such stories, suggesting the Mexico international will move to Old Trafford following the upcoming Olympics, are "made up".
Pachuca's vice president, Andres Fassi, revealed to ESPN earlier this month that they were in talks with United over the promising 20-year-old winger.
Fassi claimed negotiations were ongoing, but Lozano's father-in-law was later quoted as saying the deal was almost done, pending the Mexican starlet completing his duties at Rio 2016.
"It's all done," the father-in-law said, as quoted by Sky Sports. "It's just missing some details and then after the Olympics it becomes official."
Lozano did little to diminish speculation earlier this week, in an interview with Esto En Linea, when he revealed his excitement about the possibility of moving to United to work under Jose Mourinho.
"Of course the idea [of playing for Manchester United] excites me. They are a great team and [to make this into a reality] I must give my best," Lozano said. "It's nice that teams like [Manchester United] target you and I think I have to keep doing things right to continue on the radar of these kind of teams. [Mourinho] is a great coach and [Zlatan Ibrahimovic] is one of the best strikers in the world. But first it is necessary to speak with Pachuca and then we will see the rest."
Everything looked set for the Mexican to become Manchester United's fourth signing of the summer. The Red Devils have already announced the recruitment of Eric Bailly and Ibrahimovic, while the addition of Henrikh Mkhitaryan is expected to be made official in the coming days after Borussia Dortmund confirmed an agreement between the sides.
But Pachuca president Martinez has thrown a spanner in the works, denying any agreement and suggesting the the player will remain in Mexico.
Mexican journalist Heriberto Murriet told ESPN Radio Formula that Martinez has informed him the story is "made up".
"Just 15 minutes ago I spoke via message with Jesus Martinez and he said that [the news of the agreement] is false. It is not true. El Chuky [Lozano's nickname] is not leaving Mexican football. He denies that this young Mexican talent is going to Manchester United," Murrieta revealed following a conversation with the Pachuca president.