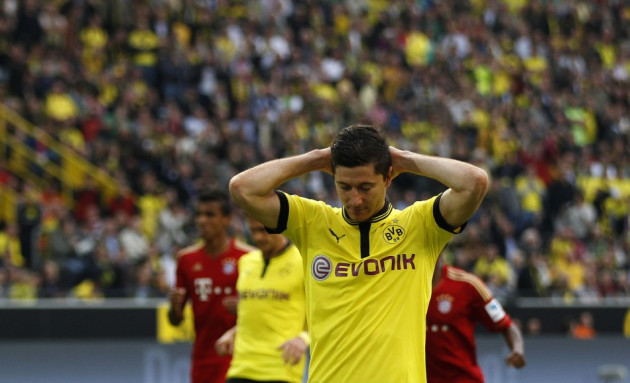 Manchester United have offered to more than double Robert Lewandowski's wages in order to tempt the Polish forward into joining the Premier League champions this summer as the striker continues to reiterate his desire to leave Borussia Dortmund.
Lewandowski has been a target for United for some time, with Sir Alex Ferguson openly discussing the striker's suitability at Old Trafford.
Though the Scot has since retired, any side in Europe would benefit from Lewandowski's goals, with the striker netting 34 times for Champions League runners-up Dortmund last season.
As he approaches the final year of his contract, Lewandowski has made it clear he wishes to move to Bayern Munich to work under Pep Guardiola next season, but Dortmund have insisted that under no circumstances will he go to their biggest rivals.
And now The Sun claim that United are taking full advantage of the situation, hoping that a wage offer of around £4.7m per year will be enough to tempt Lewandowski into a move abroad, a significant rise on his current £2m.
The Poland international recently reacted to Dortmund's comments that he would stay next season, by insisting he didn't believe that this would be the last word on the subject, telling reporters: "I do not think that this is the final decision and I expect the situation to change.
"I am enjoying my holiday for now but I hope things move forward pretty soon and the situation changes.
"I do not get upset about anything."
Guardiola's arrival at Bayern surely represents a major pull for Lewandowski, with the Spaniard credited with having insitgated the signing of Mario Gotze from Dortmund earlier this year.
Meanwhile, at United, David Moyes will officially take over from 1 July, and the manager is so far untested on the biggest stage, with only limited European experience and no major trophies to speak of.
Dortmund might not be in such a desperate position to sell though; the club will be picking up revenue of around £40-50m from their Champions League exploits over the last season, and with Lewandowski's worth at around £25.5m, he could prove to be more valuable in helping them stay competitive in the Bundesliga and across Europe next season than leaving.