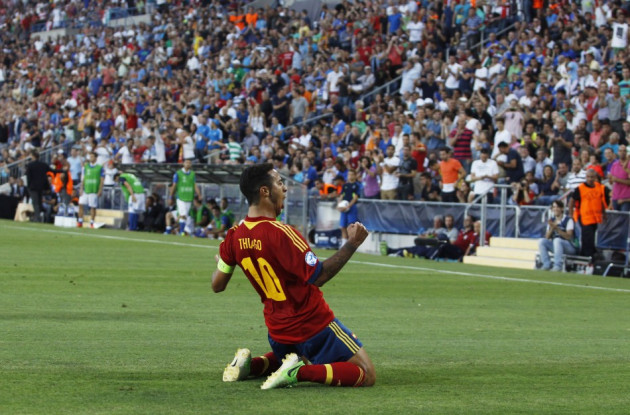 Thiago Alcantara is not the highest priority for Manchester United this summer with reports claiming that the Premier League champions are instead looking to sign Cesc Fabregas.
Thiago has long been on United's radar and this week speculation claims that he is very close to becoming David Moyes' second signing of the season after South American youngster Guillermo Varela.
But the Daily Mail reports that the midfielder is not as high on Moyes' wishlist as other publications may claim, with the side only hoping to sign Thiago if they can't land Fabregas.
Finding a way to convince the Spaniard to leave Barcelona looks to be an almost impossible task as Fabregas has insisted he is happy with the Catalan giants and isn't interested in moving even though he has struggled to find his best form for the side over the last season.
A move would certainly rile up Arsenal fans, who have always maintained a high level of respect for Fabregas due to his reasoning of leaving the club to return to his native city. If he were to then go to a direct rival, that respect would very quickly evaporate.
But Moyes is hoping that he will be able to convince the midfielder to be part of a new chapter in United's history, though if he can't, then he will actively pursue Thiago.
Both players would be a big name signing for the middle of the park that United fans have been calling for over the last few seasons, especially after the retirement of Paul Scholes.
While Fabregas has already shown how good he can be in both the Premier League and La Liga, Thiago is still developing and was one of the stand out players in Spain's success at the Under 21 Euro tournament this month.
But it appears that Moyes would prefer to go with experience over a player with potential for future success, and particularly with Fabregas having linked up successfully with Robin van Persie at Arsenal, the manager reportedly sees him as the perfect signing.