Manchester United had to fight off competition from Chelsea, Arsenal and Manchester City to sign Nick Powell, according to Sir Alex Ferguson, with the midfielder in high demand as he starred for Crewe in their promotion season.
Powell was signed by the Red Devils before his top-class performance in the play-off final, where the 18 year old scored to take his side into League One with a convincing 2-0 win over Cheltenham Town.
But Ferguson was keen to shore up a deal for the teen early on, and says he was well aware of the fact that United faced a great deal of competition in gaining his signature.
"We sent people to see him a few times after he started scoring a few goals," the United boss told the Manchester United website. "He actually first came on our radar a few years ago when he played against our youth team.
"But we watched him seriously from February. Mike Phelan went to see him a few times and so did our chief scout, Jim Lawlor. My brother Martin also went to see him against Torquay before I went for myself, with Mike, when Crewe played Aldershot.
He continued: "We were thinking things over. We'd seen a few other Premier League clubs there at the game - Everton, somebody from Arsenal, somebody from Chelsea (they were very keen on Nick) - so we thought it was best to set the wheels in motion.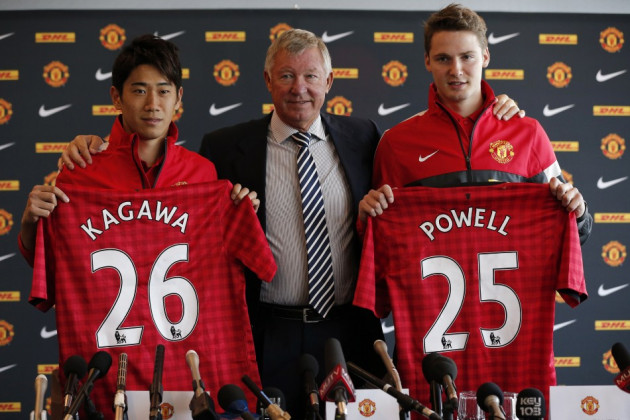 "In these situations, I always think about the time we signed Lee Sharpe. We went to watch him and we were impressed. The dilemma was this: do we go home and think things over or do we make a decision and act swiftly? With Lee we moved quickly - I remember we drove a few Torquay directors down to the beach and wouldn't let them out of the car until we'd agreed a deal! - and it paid off.
"Anyway, when Mick and I went to watch Nick Powell we came away and I said: 'He's definitely a player. There's no doubt about that.'"
Powell has been one of two signings so far for United in the summer transfer window, but Ferguson has admitted that he is looking at adding more faces to the squad as he looks to challenge Manchester City for the title next season.
The side look set for a particularly difficult transfer window, with stiff competition for striker target Robin van Persie, while Lucas Moura is also on Ferguson's wishlist, but his club are negotiating a higher fee on the star.