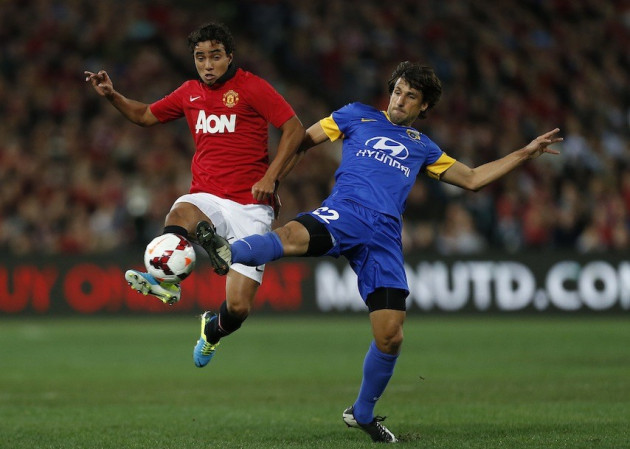 Rafael Da Silva's agent has insisted he is happy at Manchester United despite reports claiming he could be set for a move to Corinthians in the next transfer window.
The Brazilian right back has featured just once for United after injuring his hamstring in the Community Shield victory over Wigan before the Premier League season began.
While reports in his native Brazil were claiming that Rafael could be set to return home as he faces a tough fight for his place in the team, his agent Cassiano Pereira insists it would be difficult to talk the defender out of leaving United.
"I see it as being quite difficult [signing Rafael]," he said, according to the Mirror. "He's a starter, despite having been injured [and] nobody at Corinthians has talked to me.
"Suddenly, there is interest. If there is, it's great. All third parties and players see Corinthians very positively, but it's hard, because he is happy at United.... He is not even thinking about returning to Brazil."
For Rafael, game time will be of the upmost importance in preparation for possible World Cup selection next summer. The United defender has featured for Brazil twice but was chastised by local media for his performance against Mexico in the Olympics, which Mexico won 2-1 to take the gold medal.
But Pereira insists that despite making 'one mistake' Luiz Scolari should still have the former Fluminese man in his plans for next year.
"He dreams of playing in the World Cup, I've got no doubt about that," Rafael's agent commented. "I don't understand why he hasn't been chosen by Scolari.
"Because of one second, a player doesn't get another chance?
"Rafael is an exemplary player... they placed all the responsibility on him but a game lasts 90 minutes. It was an injustice."
If Rafael can get back to full fitness the right back will offer more options for United manager David Moyes, and the manager will certainly be looking for them after his defence put out a miserly display against Manchester City at the weekend.