Manchester United have agreed a deal with Borussia Dortmund to purchase Robert Lewandowsk in the summer, according to German reports, with the striker believed to have been offered a wage in the vicinity of £100,000 a week to make the move to Old Trafford.
Reports had speculated recently that the Red Devils were chasing the man who has scored 14 goals for his side this season and helped them through the group of death in the Champions League.
United have been on fire this season up front, thanks to their summer purchase of Robin van Persie, who on many occasions has been the difference as the side go seven points clear at the top of the table going into the new year.
But with Wayne Rooney not his usual top scoring-self this season - the England international has so far scored less goals than super-sub Javier Hernandez and van Persie - Sir Alex Ferguson is believed to be running out of patience and wants to further improve his strike force so they can make sure a loss of the title on goal difference doesn't happen again.
German paper Bild is claiming that while Ferguson will stay true to his word and not get involved in the transfer market in January, the United manager has been in talks with Dortmund over a summer move instead in the hopes of getting Lewandowski at a more affordable price.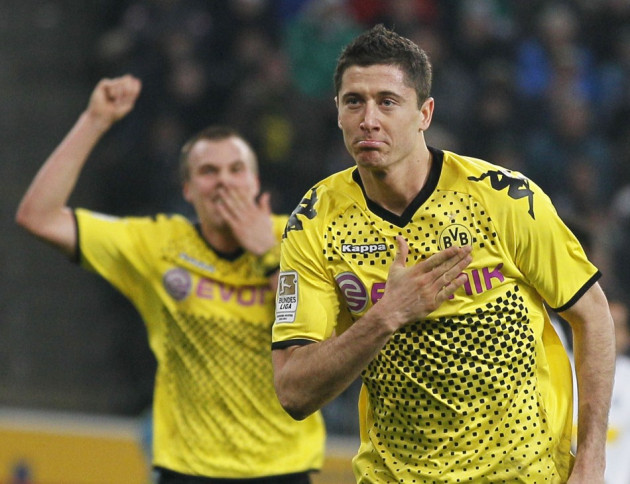 The fee is believed to be around €22 million for the Poland international, and with his current deal lasting until 2014, Dortmund are said to understand that as much as they want to hold onto their star goal scorer, they won't be able to if he wants a move to Old Trafford.
Ferguson raised a lot of eyebrows in the summer when he made a shock move for van Persie - while United had lost the title to Manchester City on goal difference alone, many pundits believed that the club should have been improving in the midfield area.
But the Dutchman's difference to the club has been obvious from day one, and Ferguson has now had a taste of just how effective a high scoring side can be, irrespective of whether there are problems in the defence and midfield.