Arsenal and Manchester United are racing to sign Dutch teen Jeroen Lumu, according to the Mirror. The 18-year-old forward is versatile enough to play on either flank or up front and is very highly rated by his club, Eredivisie side Willem II.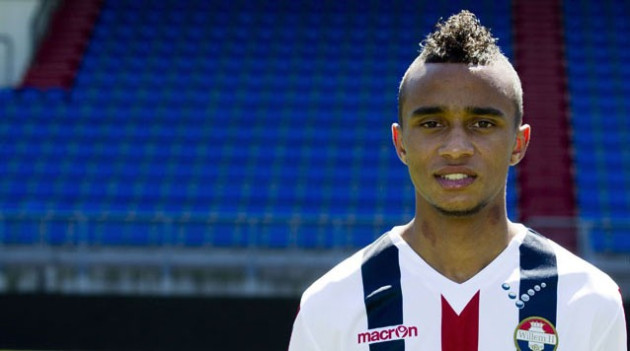 In addition to United and Arsenal, in January Sky Sports said Aston Villa and Fulham were tracking the youngster, whose present contract runs to 2015. Lumu was valued then at £1m but any fee now will have to be substantially larger; he is already a first team regular at the Dutch club and has two goals from 15 games so far in his career.
Lumu spent a training period with Wolverhampton Wanderers earlier this year, who made a formal offer for him. However, it was rejected by Willem, who are open to the idea of the youngster leaving but want clubs to meet his full value.
"There is interest from several sides Lumu, and that is understandable for a young talented player. Willem II is willing to discuss a possible transfer, in case of serious interest from clubs," managing director Mark Faber told the club's website.
Arsene Wenger and David Moyes have both had disappointing transfer seasons so far, with neither side matching Chelsea, Manchester City and Tottenham in landing big money targets. In fact, both clubs have fallen behind Liverpool as well, who completed a raft of signings early in the summer and appear to have finished transfer activity (the Luis Suarez situation notwithstanding) for now.
The Premier League champions spent a great deal of attention on Barcelona midfielders Cesc Fabregas and Thiago Alcantara. However, the latter snubbed Old Trafford chiefs to re-unite with former boss Pep Guardiola at Bayern Munich and the ex-Arsenal captain has refused all offers to stay at the Nou Camp this year.
All of this means Moyes is left with his former charge - Everton's Marouane Fellaini - as a back-up signing. The Mail Online believes the Scot is preparing a formal bid for the Belgian international and Toffee's left-back, Leighton Baines.
Meanwhile, despite talk of finally breaking the club's financial shackles and signing established first team stars, Wenger has remained true to his policy of signing young and inexpensive talent. The only new arrival at the Emirates so far is France youngster Yaya Sanogo, with a £14m bid for Brazil midfielder Luis Gustavo close to completion, according to the Telegraph.
Lumu's signing will add to the growing number of youngsters at both clubs. United's only signing of the summer so far is Uruguayan Guillermo Varela, who is 20 years old. And both clubs are looking to bring youth team players through to the first squad, with Chuba Akpom and Belgian Adnan Januzaj the players in focus, for Arsenal and United respectively.