Former England striker Teddy Sheringham is confident that Manchester United manager Sir Alex Ferguson will sign Dutch midfielder Wesley Sneijder from Italian outfits Inter Milan this summer.
According to the former Manchester United forward, the 27-year-old playmaker, who had been speculated to make a move from Serie A to the Premier League last summer, will be the perfect addition to the Red Devils squad this summer.
"I think they will, without a doubt. The manager tried to sign Sneijder last year and when he likes someone he very rarely lets go of that bone and he will go back in for them," Goal.com quoted Sheringham as saying.
"He did the same for a lot of players - like Ruud Van Nistelrooy. He had a broken leg when he first went in for him but he went back in for him a year later - it wouldn't surprise me if he goes back in for Sneijder and he finally gets his man," said Sheringham, according to a Daily Mail report.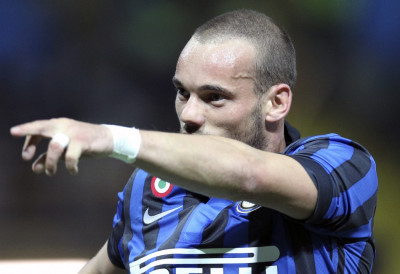 The 46-year-old, who also played for Tottenham Hotspur following his spell at Old Trafford, says that the Red Devils have to stop depending on ageing players such as Ryan Giggs and Paul Scholes.
Although both players have been performing quite well - especially Scholes, who has been one of United's top players after coming out of retirement - they are both losing their speed and stamina due to their age.
Sheringham, who finished his career at 42, says that he struggled to maintain his fitness and performances levels in the latter half of his career.
"Looking back at my career I realised that in the last three or four years I started the campaign very, very well but I couldn't sustain it over a whole season and it petered away long before we even reached March. You only realise after you have retired how much you struggled," EspnStar quoted Sheringham as saying.
Sheringham, who helped United get three Premier League titles including a treble (in the 1998/1999 season) during his four years at Old Trafford, says that the Premiership title race is still not over as he feels that Manchester City will have a tough time with Queen Park Rangers, who are desperately fighting to avoid relegation this summer.
"There is a different atmosphere in the dressing room in a final day decider. United have to make sure they win their game at Sunderland but the onus is on Man City.They have not won the league for a long time now and there will be a lot of pressure on them come Sunday afternoon and QPR have to get a point to make sure they are safe as well," said Sheringham, according to Goal.com.
"Mark Hughes going back to Manchester City has a double effect on that and he won't want to lose there.He would love to stop City winning the title without a doubt. It's not a formality, if it gets to half-time and it's still 0-0 then it could be a very tense second half," he added.