Holland manager Louis van Gaal has spoken very highly of Robin van Persie, as Manchester United continue to chase the striker in the hopes of sealing a deal before the end of the week.
Van Persie is currently training with his national side as they prepare for a friendly with Belgium tonight, and rumours are continuing that on his return to England he will be set for Old Trafford before their season opener against Everton next Monday night.
And though van Gaal wouldn't be pressed over the issue of van Persie moving to United, he did say that the 29 year old was one of the best players he had ever spoken to.
"I think the player always has to decide for himself," the Dutch manager told Sky Sports when asked about a move to United. "When he wants he can ask me for advice but then I'll speak to him, not to you."
He continued: "I had the conversation [with van Persie] and it was unbelievable. A great and high level, not only at a human side but also in the football vision. It was one of the best meetings I've had with an individual player."
But van Gaarl admitted the decision over his future should be made sooner rather than later, saying: "Yes, of course. But it's for the English clubs, and Arsenal of course, to decide."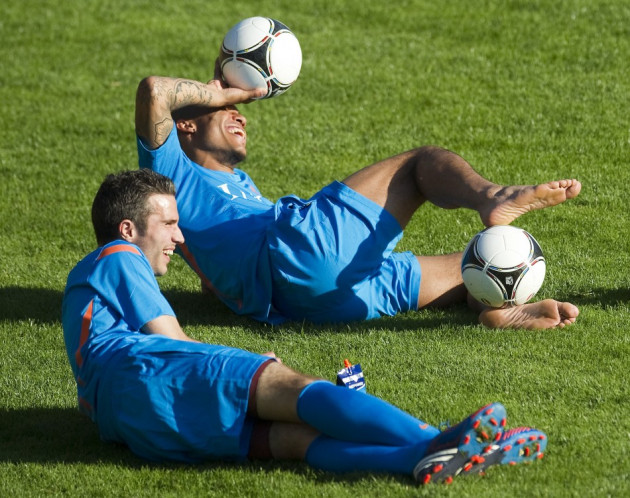 Today reports are circulating that United have increased their bid to £20 million for van Persie, though Arsenal are still hoping to get closer to £30 million. But according to the Independent, Sir Alex Ferguson is confident that before the transfer window comes to a close, the Gunners will decide that the bid is enough to let go of their captain.
If Arsenal were to keep van Persie, he would only need to see out the next six months with the north London club before he can sign a pre-contract with United and leave for free, putting the Red Devils in a very advantageous position over the looming deal.
The midfield also remains a place where United haven't yet made any big-name signings, with the club missing out on Lucas Moura after the playmaker joined PSG for a reported €45 million fee. The club are believed to be chasing forward Angelo Henriquez, who would join Mexican teammate Javier Hernandez if he made the move to Old Trafford, but there is still a lot of work to do before August 31 comes along.