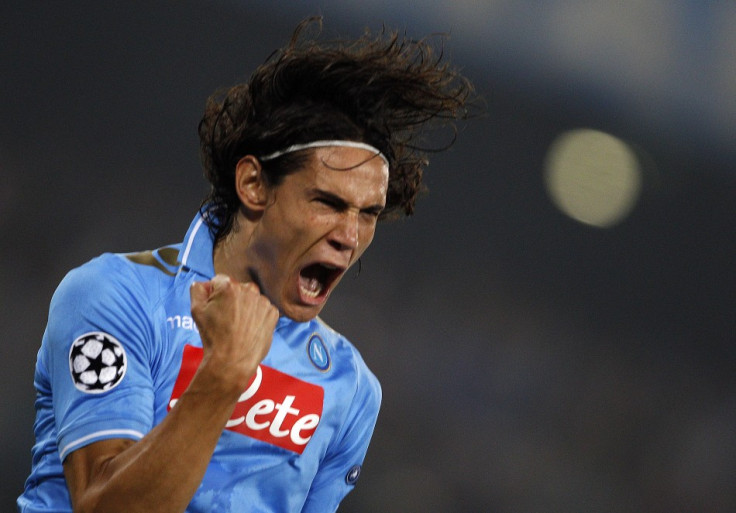 Edinson Cavani has insisted that his future lies with Napoli, amidst interest from big English clubs including Manchester United and Manchester City.
Cavani has starred for the Serie A side since joining the club in 2010, and despite only being at the club for around 18 months, he has scored 30 goals in 43 appearances.
Reports started to surface that Cavani might be on the lookout for a club that could offer more ambition, and particularly at the moment with Napoli uncertain of a place in the next stage of the Champions League, he was said to be considering his options.
But Cavani, who has particularly been linked with a deal with United, has moved to quash any rumours of an early move away from the Italian outfit.
"My future is at Napoli, there are no doubts," he said.
United's targets in the January transfer window will cover a wide range of positions, with strikers, midfielders and defenders included in Ferguson's priority list. While the club already have Javier Hernandez, Wayne Rooney, Dimitar Berbatov and Danny Welbeck pushing for a place up front, Berbatov looks set to exit the club in the next window, and Ferguson could be on the lookout for a replacement hit-man.
Cavani insisted in the summer that there was no truth in the rumours linking him with United, while City have openly talked in the past about their admiration for the Uruguay international. Roberto Mancini has also been able to take a closer look at Cavani as he plays in the Champions League, with Napoli drawn in the same group as City.
But Cavani, who signed for Napoli from rivals Palermo, insists that he will not be leaving the club no matter how tempting an offer exists to go abroad.
United have been linked with a host of other strikers for when the window opens in six weeks, with Danzell Gravenberch of Ajax, and Alejandro Pozuelo of Real Betis, also connected to potential moves for the club.
But Cavani's form in front of goal at the moment is incomparable to the club's other targets, and if the 24-year-old becomes a priority transfer objective for Sir Alex Ferguson, the manager may come up with an offer that is too good to refuse.