Ex-Manchester United goalkeeper Edwin van der Sar has revealed he played a significant role in persuading compatriot Robin van Persie to move from Arsenal to Old Trafford. Dutch international van der Sar made more than 260 appearances for the Red Devils, over six seasons.
It seems van Persie spoke to the 2009 UEFA Club Goalkeeper of the Year to help him decide between Juventus and United; van der Sar played for the Italian champions between 1999 and 2001.
"He called me up and said other clubs were in for him, but because I played for two of them, United and Juventus, he wanted to hear my thoughts about them. So we spoke for five minutes about Juventus and 55 minutes about United. He wanted to know how good United were, what he would find there, how the players are, what Ferguson is like, how they train, how the system works," he was quoted as saying in the Telegraph.
The 41-year-old van der Sar has also praised van Persie for settling in at his new club so quickly; the 29-year-old has scored four of United's six goals so far this season. The 2011-12 PFA Player of the year is well on his way to re-creating his 30-goal haul from last season.
"He has shown his quality already. I read a statement from Ryan Giggs, saying that United have signed good players and good talent before, but that this one [van Persie] has everything. He has the whole package already, but that doesn't always mean it will work of course. Look at Fernando Torres at Chelsea. His first year was difficult, but I think the signs with Robin are good," he added.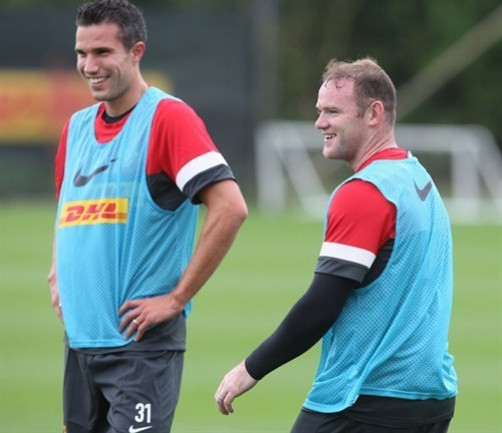 On the debate about van Persie slotting into a system alongside United's other striking star, Wayne Rooney, van der Sar said he was confident the former Gunner would have not trouble in creating a working partnership. The two have yet to start a game together and United fans may have to wait a little while longer before seeing their two strikers combine.
Rooney is recovering from a thigh injury suffered against Fulham and while the England international has returned to light training, Sir Alex Ferguson may not risk him, particularly with a Champions League game against Turkish club Galatasaray and a league fixture against Liverpool to come. Van Persie, meanwhile, returned from the international break with a thigh injury of his own and although national team coach Louis van Gaal played down the problem, the Dutchman could miss the Wigan game.
"Can van Persie play with Rooney? I think that's why the manager bought him. They obviously won't play every game, but I think Sir Alex is quite happy with the firepower he has up front. United lost the league by a couple of goals last season and I don't think the manager wants to see that happen again," van der Sar said.