Manchester United legend Sir Bobby Charlton has called on Wayne Rooney to reject advances from Chelsea and other suitors and stay at Old Trafford. The 75-year-old former midfielder is widely regarded as one of the finest players in the history of the game and spent nearly two decades with the Red Devils, making over 600 appearances and winning the 1967/68 European Cup.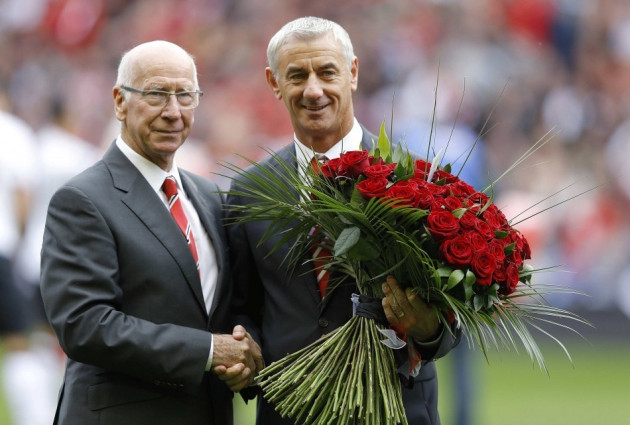 Charlton believes the 27-year-old England international is more than capable of breaking his all-time record of 249 goals. Rooney is on 197 right now and needs only three more to become the fourth striker in United's history to cross the 200-mark.
"Wayne Rooney is a Manchester United player and I think he will continue to be a Manchester United player. We are not silly enough to make rash decisions. I don't like losing really good players and he is a really, really good player. I was hoping one day he might score as many goals as I had and that would have been nice - and I'm still thinking that way," Charlton said.
However, England's World Cup legend may have to make his peace with the former Everton youngster leaving, given the intensity of speculation surrounding his future. Rooney is a confirmed target for Jose Mourinho and, according to the Mirror, Arsenal are also interested.
Meanwhile, Charlton also spoke on new United manager David Moyes. The Scot replaces compatriot and club legend Sir Alex Ferguson at the helm and faces his first competitive fixture on 11 August, against Wigan Athletic in the Community Shield.
"He is a first class coach and a manager and I was not surprised United thought about him when Sir Alex Ferguson retired. After watching David for a while I really do believe he is going to have a happier time than some people give him credit for. At the end of the day we are going to be winners, not losers," Charlton claimed.
Finally, the veteran also said Ferguson would not be missed in this or forthcoming season. He believes one of the most successful club managers of all time will be ready to help if he is needed.
"There is continuity already because Sir Alex is a director of the club and he will get the opportunity to say something if he doesn't agree with things, but I doubt very much whether he will disagree at all. I am certain there will be mutual support between Sir Alex and David," he concluded.