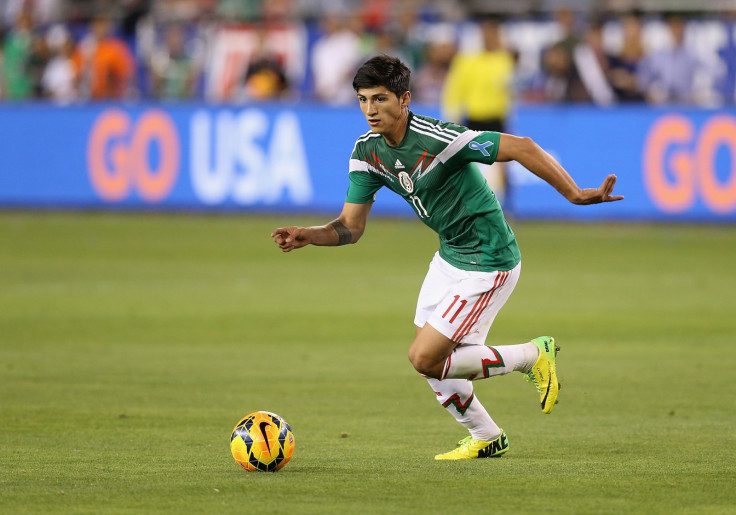 Update: Alan Pulido, the Mexican footballer who was kidnapped on Sunday, has been rescued, the BBC reported 30 May, citing officials.
Mexican footballer Alan Pulido was kidnapped near his home in the state of Tamaulipas in the early hours of Sunday (29 May), it has been reported. The 25-year-old's kidnapping has sparked a massive manhunt in the north-eastern state, which is historically seen a battleground for opposing drug cartels.
Pulido reportedly left a party with his girlfriend at around 11.30pm local time and was travelling home to Cuidad Victoria, when the pair were suddenly surrounded by several trucks, his brother Armando told Medio Tiempo. According to reports by the BBC, six masked men allegedly grabbed the striker "by force" but left his girlfriend unharmed in the vehicle.
"We have information that he was intercepted by armed people and since then, his whereabouts are unknown," state prosector Ismael Quintanilla told reporters. Quintanilla said that law enforcement has no indications that Pulido's family has been contacted by his kidnappers. The prosecutor added that any rumours that the footballer had been found were false.
The Guardian quoted a state security source, who had noted that Pulido had been seen driving a BMW in his home town, but it is unclear whether that was the vehicle Pulido was driving the night of his kidnapping.
The Tamaulipas Coordination Group - which is comprised of state and federal agencies - announced on Twitter that it was leading the search effort to find the young athlete, BuzzFeed News reported.
Pulido plays for Greek club team Olympiakos and has made several appearances with the Mexican national team. Following his disappearance, Olympiakos tweeted, "We sincerely hope that this ordeal ends soon and that he will return home safely."
According to the Guardian, Pulido was excluded from the Mexico squad for the Copa America due to a legal dispute with his former Mexican club, Tigres. The team nevertheless posted their solidarity with Pulido's family following his disappearance. "@TigresOficial expresses its solidarity with the family of @puliidooo in light of the difficult situation they face," the club tweeted.
Pulido's kidnapping, which has triggered an outpouring of support, has highlighted Mexico's extreme cartel violence, with reports of The Gulf Cartel vying for total control of the prevalent drug trade in Tamaulipas state. The Citizen Council for Public Security and Criminal Justice, a think tank in Mexico City, ranks the metropolis as the second-most dangerous city in Mexico for kidnappings. The Guardian reported the Gulf Cartel and its former armed wing, Los Zetas, have fought over the state since its break up in 2010.